Latest news
KIKO LOUREIRO EXPLAINS THE REASON HE LEFT MEGADETH!
Former MEGADETH guitarist Kiko Loureiro explained his decision to leave "Megadeth" during an interview for the Brazilian podcast "Amplifica", presented by his former bandmate Rafael Bittencourt, who also played in the band "ANGRA" with Kiko.
Kiko Loureiro told the Brazilian Podcast that the main reason to leave Megadeth was ''freedom" as He described himself, to the Confere Rock website, as someone who "needs freedom," explaining that he went to the United States for the same reason in the early 2000s, and that having freedom after more than eight years with MEGADETH was "important." "And now, due to circumstances in my life, I have taken the liberty of choosing not to be in MEGADETH," he said. "Because it's my option. Because freedom is having the choice between two viable options; that is freedom."
We wish you all the best Kiko in this new journey!
SEPULTURA PREPARES LIVE ALBUM TO CELEBRATE THE BAND'S 40TH ANNIVERSARY
In an interview with Australia's Everblack podcast, Sepultura guitarist Andreas Kisser talked about the band's upcoming live album to celebrate the 40th anniversary of the Brazilian/American metal veterans.

"We're recording everything. We started in Europe for a whole month; We recorded everything. We went to Indonesia and Singapore and recorded there, and now in Australia as well. We want to release 40 songs in 40 different cities around the world, covering everything we've done — of course, the classics, but also the B-sides and C-sides, and really make a very complete story and also show how far we can go. I mean, Sepultura has played 80 countries in 40 years and we have fans all over the world, and I think it's past time we had a live album like this to celebrate 40 years together with them and at our best. We felt great on stage. We're playing better than ever. We're having fun, so I think it's going to be a very special live album with all the recordings we're doing right now. It's going to be awesome."
Sepultura is a Brazilian heavy metal band that was formed in 1984. The band's original lineup consisted of vocalist/rhythm guitarist Max Cavalera, lead guitarist Jairo Guedz, bassist Paulo Jr., and drummer Igor Cavalera. Sepultura is widely regarded as one of the most influential and successful heavy metal bands to come out of Brazil.
The band gained international recognition for their fusion of thrash metal and elements of Brazilian music, as well as for their socially and politically charged lyrics. Sepultura's early albums, such as "Beneath the Remains" (1989) and "Arise" (1991), are considered classics in the thrash metal genre.
Over the years, Sepultura underwent lineup changes, including the departure of founding member Max Cavalera in 1996. Despite these changes, the band continued to release new music and tour, with guitarist Andreas Kisser becoming a key member alongside Paulo Jr. and Igor Cavalera that later left the band being replaced by Jean Dolabella and later by Eloy Casagrande. Derek Green has been the vocalist for Sepultura since 1998.
Sepultura's discography includes albums like "Chaos A.D." (1993), "Roots" (1996), and "Quadra" (2020). The band has maintained a significant presence in the metal scene, and their impact on the genre is enduring.
METALLICA SET TO PLAY THEIR FIRST CONCERT EVER IN SAUDI ARABIA FESTIVAL''SOUNDSTORM''
Metallica fans in Saudi Arabia get ready!!! Metallica is headlining the opening night of the Soundstorm festival in Riyadh on December 14 will mark a significant milestone for both the band and the country. It reflects the growing cultural diversification and openness to various forms of entertainment in Saudi Arabia. Concerts by international artists have become more common in the country in recent years, and Metallica's performance is likely to be a memorable experience for fans attending the event.

The inclusion of diverse artists such as Pharrell Williams, Chris Brown, H.E.R., BLACK EYED PEAS, J Balvin, Anne-Marie, Tiesto, and David Guetta will also join the event.

Soundstorm is organized by MDLBEAST and have become a platform for bringing major global and regional acts to Riyadh. The fact that the festival has been attracting renowned artists since its launch in 2019 highlights the growing significance of Saudi Arabia.
The band said "We're not done with 2023 just yet, as an amazing opportunity has just come our way to perform at a major festival that we have never played in a part of the world we rarely get to visit.
"We're excited to announce that on Thursday, December 14 we'll be the first hard rock band to ever play at @MDLBeast's Soundstorm Festival in Riyadh, Saudi Arabia.

SHARON OSBOURNE ON - ''OZZY SHOULD BE IN THE ROCK AND ROLL HALL OF FAME AFTER SELLING ALMOST ''100'' MILLION SOLO ALBUM!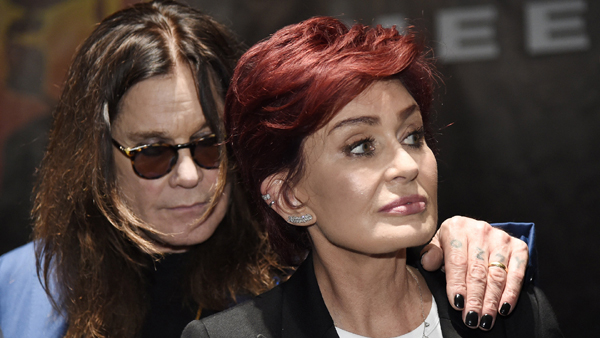 Sharon Osbourne has made statements expressing that her husband, Ozzy Osbourne, should be inducted into the Rock & Roll Hall of Fame as a solo artist, it suggests a push for recognition of Ozzy's contributions apart from his role in Black Sabbath. The decision to induct artists into the Rock & Roll Hall of Fame is typically determined by a nominating committee and votes from various music industry professionals.
Ozzy Osbourne's solo career is considered notable and influential, and it may be a point of discussion to the nomination and selection process. Sharon Osbourne's underscores the argument that Ozzy Osbourne's extensive and influential solo career, spanning 43 years, should merit his induction into the Rock & Roll Hall of Fame as a solo artist. The eligibility criteria for the Rock & Roll Hall of Fame often consider an artist's impact and longevity in the industry.
PAUL STANLEY FLU FORCES KISS TO CANCEL CANADIAN FAREWELL TOUR!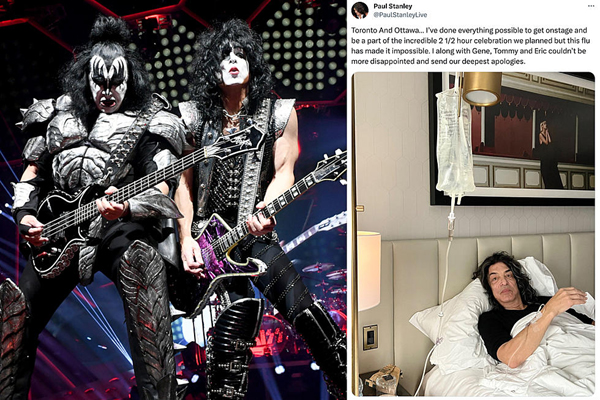 Kiss had to cancel their farewell tour dates in Canada due to Paul Stanley's battle with the flu. We wish Paul Stanley a swift recovery, and hopefully, Kiss will be able to resume their farewell tour soon.

The band initially announced their performance on Tuesday, Nov. 21 was called off due to "an unforeseen illness in the band party." Less than 24 hours later, Kiss announced that the show scheduled for Nov. 22 in Toronto, the final Canadian stop of their End of the Road farewell tour had also been canceled.

"KITTIE'' NEW ALBUM ON THE WAY!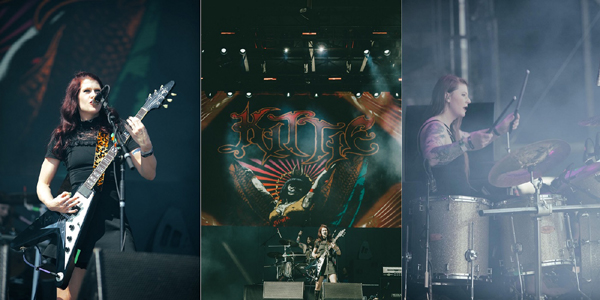 Exciting news for KITTIE fans! The band is working on their new album with producer "Nick Raskulinecz" which is a highly respected producer in the hard rock and heavy metal genres, known for his work with various prominent bands.
This past Sunday, November 19 the studio shared a photo of kittie and Raskulinecz at the facility, (SIENNA STUDIOS) and also included the following message --- "Amazing to have @officialkittie and @officialnickraskulinecz with us working on a new album. It's gonna crush! ---

Nick Raskulinecz's extensive experience and impressive discography highlight his versatility as a producer. Working with iconic bands such as RUSH, ALICE IN CHAINS, KORN, RISE AGAINST, HALESTORM, EVANESCENCE, SKID ROW, and the DEFTONES speaks to his ability to collaborate across a wide range of rock and metal subgenres. With this background, it's exciting to think about the potential impact he could have on KITTIE's upcoming album.

GUITAR USED BY "KURT COBAIN" AT NIRVANA'S LAST SHOW GOES UP FOR AUCTION!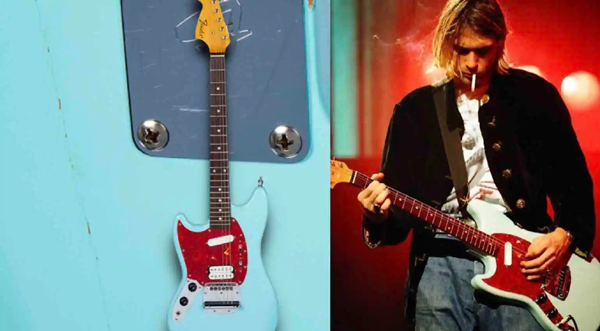 The guitar Fender 1993 MG-69 Mustang, known as the "Skystang I", is owned by Cobain's brother Chad, and was used throughout Nirvana's 'In Utero' tour, including at the band's final show at Munich's Einz Terminal on March 1, 1994. Previously on display at Seattle's MoPOP (formerly known as The Experience Music Project), the guitar is now going on sale as part of Julien's Auctions' upcoming 'Played, Worn, & Torn: Rock 'N' Roll Iconic Guitars And Memorabilia' collection.

The auction will also include guitars from Metallic's Kirk Hammett, The Who's Pete Townshend, Eric Clapton, Eddie Van Halen and Johnny Cash, as well as items such as Slash's 1966 Chevrolet Corvette Stingray sports car, a Wurlitzer jukebox owned by John Lennon, John Lydon's handwritten lyrics to "Holidays in the Sun" and "Submission" and a pack of American Spirit menthol cigarettes left by Kurt Cobain at a rehab facility in Los Angeles. The guitar Kurt Cobain played at Nirvana's last concert will be auctioned this weekend, with an estimated price tag of $2 million.
The auction will take place from November 16 to 18!


BRING ME THE HORIZON ANNOUNCES Sempiternal 10th anniversary reissue!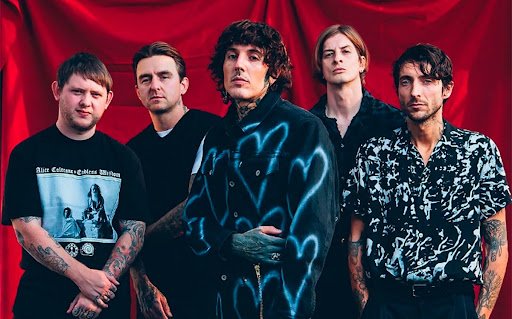 Great news for Bring Me The Horizon fans! The announcement of a 10th-anniversary reissue for "Sempiternal" indicates a celebration of the album's impact and longevity. The reissue, with its emphasis on the music and the enigmatic artwork, sounds like a thoughtful celebration of the album's 10th anniversary. The album will be availiable on December 8th and is for sure an exciting day for fans looking to add these special editions to their collections.
It'll be getting re-released on vinyl and cassette (a press release describes these new physical products as being 'carefully fashioned to emphasise the music and underline the enigmatic artwork still steeped in symbology and mystique').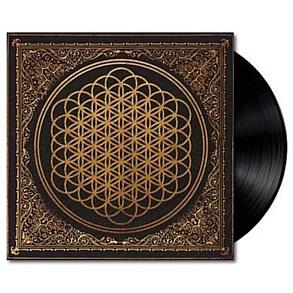 PANTERA ANNOUNCES 2024 NORTH AMERICAN TOUR WITH LAMB OF GOD!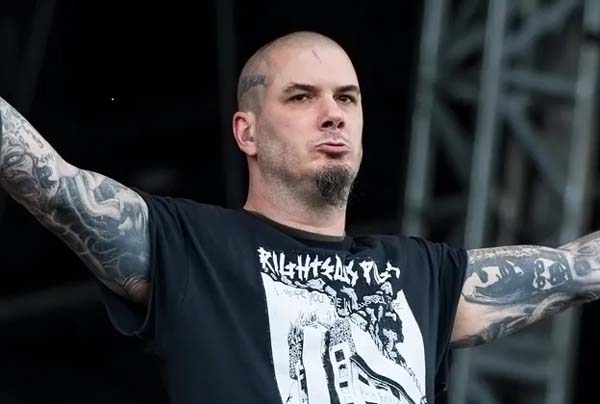 Pantera has announced another leg of headlining tour dates with Lamb of God, the new concert dates run through February of 2024 in North America, starting in Sunrise, FL on February 3 and wrapping up in Québec City on February 27 with more supporters to be announced too.
The biggest one concert will be in NYC at Madison Square Garden on February 22. Tickets to all dates go on sale Friday, November 17 at 10 AM local, with various presales starting Tuesday, November 14 at 10 AM local.

Pantera also has more dates coming up supporting Metallica in the summer, including Chicago, Minneapolis, Seattle, and more.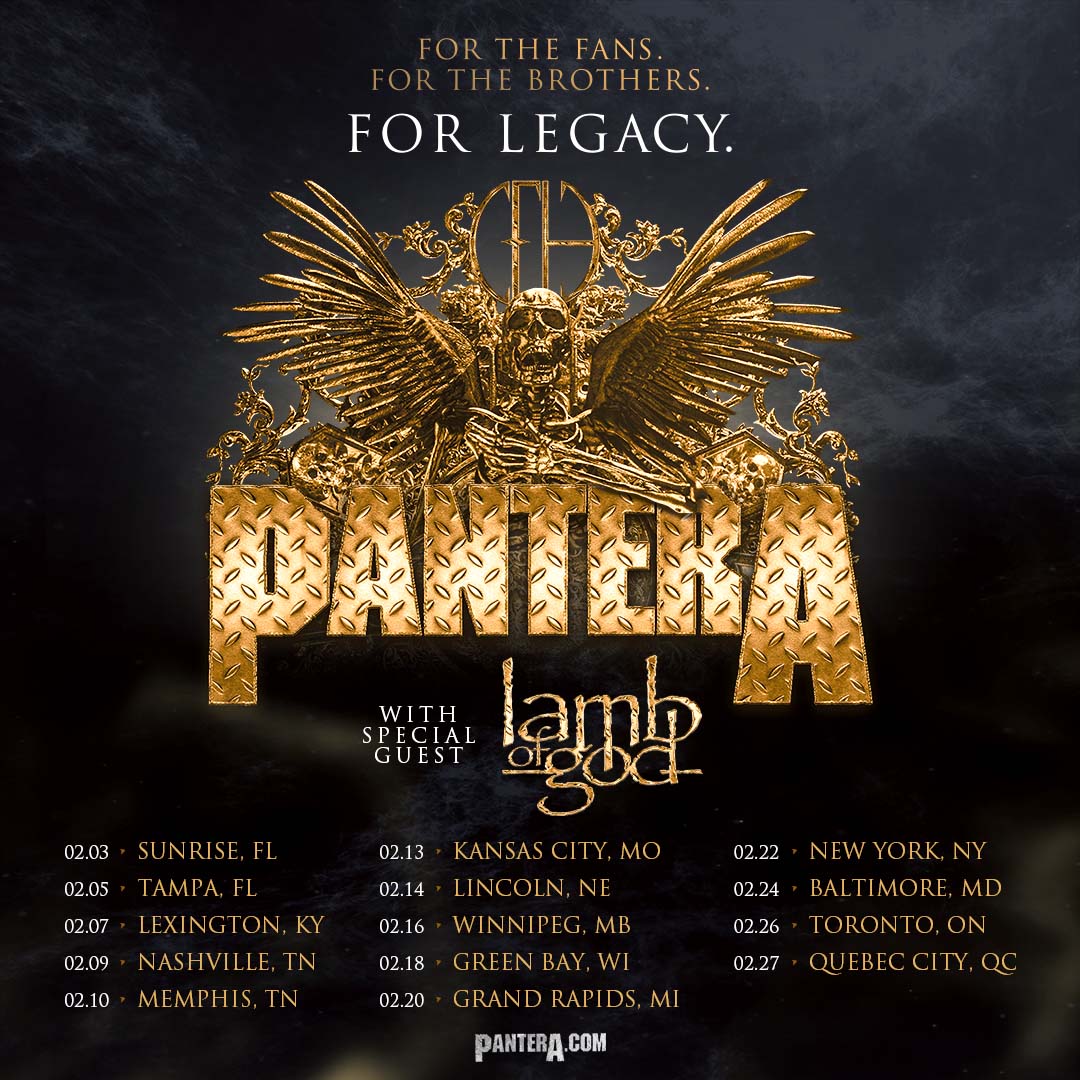 THE 2024 GRAMMY NOMINEES "ROCK+ METAL+ ALTERNATIVE"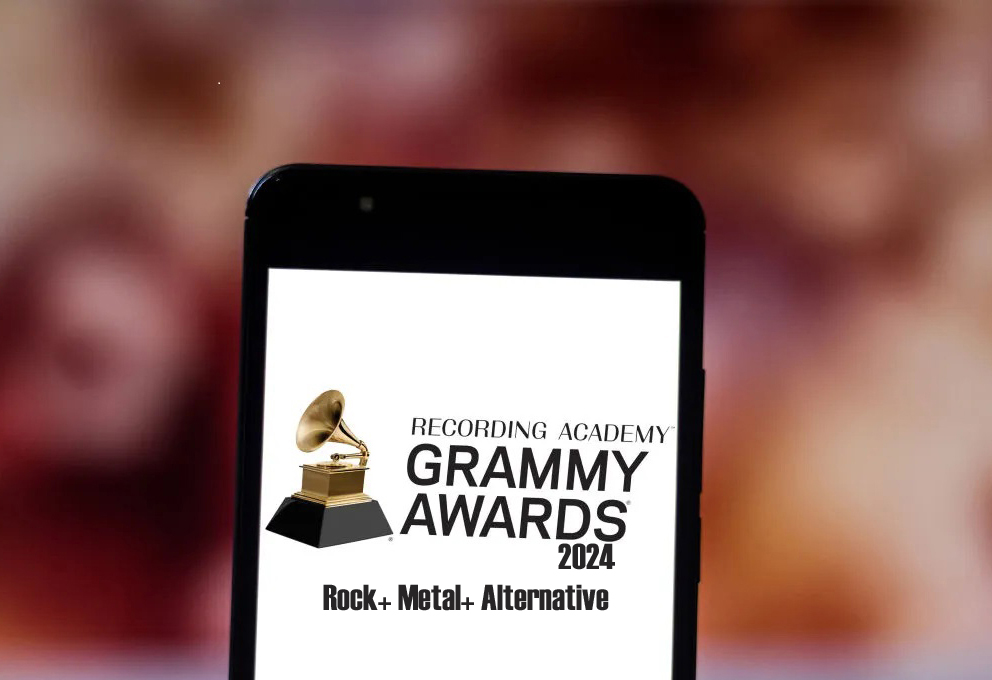 The 66th annual Grammy Awards this year will be at Crypto.com Arena in Los Angeles, and the broadcasting details (live on CBS from 8-11:30 PM ET). Paramount+ subscribers with Showtime will be able to stream the event live, with all other tiered subscriber packages affording viewers the ability to watch the day after.

The Grammy Awards nominees are determined by the Recording Academy, which is an organization of musicians, producers, recording engineers, and other recording professionals. The Recording Academy is responsible for overseeing the Grammy Awards and is divided into various chapters representing different regions. Members of the Recording Academy, who are professionals in the music industry, participate in the nomination process.
The process involves voting by the Recording Academy's voting members, who nominate their peers and colleagues in various categories based on their work in the eligibility period. The nominees are then announced to the public, and the final winners in each category are determined through a second round of voting by the members. The Grammy Awards are known for recognizing excellence in the recording industry across a wide range of genres.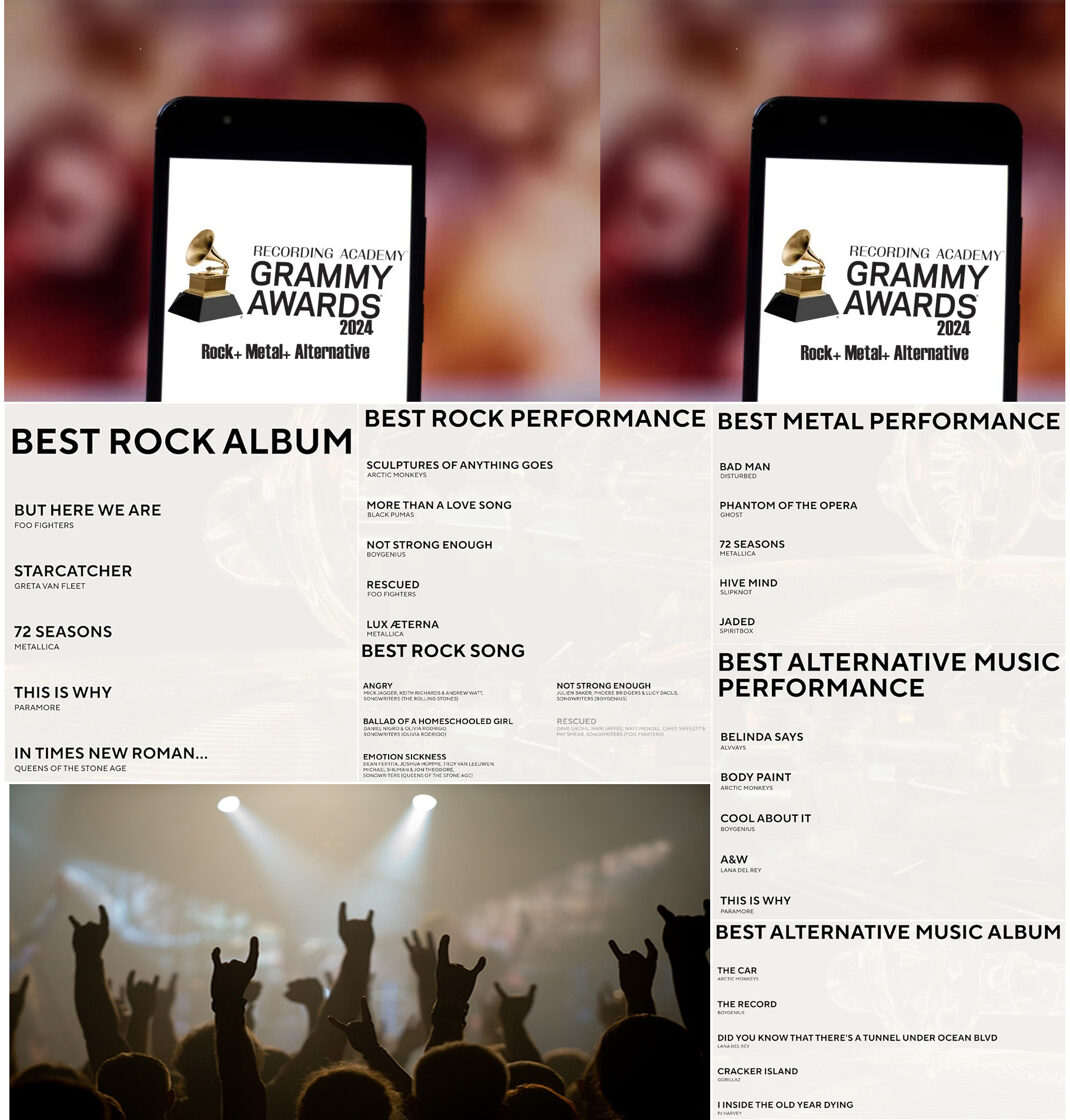 KISS LAST CONCERT LIVE ON PAY-PER-VIEW FOR FINAL SHOW!
KISS's last-ever concert is indeed a significant event, and fans around the world will have the opportunity to experience it through the pay-per-view broadcast on PPV.com. Streaming the concert globally to all the fans who may not be able to attend in person to still be part of this historic moment.
For those interested in watching the live broadcast, the specified date and time is Saturday, December 2 at Madison Square Garden in New York city, at 8 p.m. EST / 5:00 p.m. PST. To access the pay-per-view stream, viewers can visit PPV.com or use cable and satellite operators in the U.S. and Canada.
KISS, formed in 1973 by Paul Stanley, Gene Simmons, Peter Criss, and Ace Frehley, has had a long and influential career in the music industry. Their first "farewell" tour took place in 2000, marking the last tour to feature the original lineup. Despite the farewell tour in 2000, KISS continued to perform and record music, and the lineup underwent changes. Over the years, different members joined and left the band. KISS has certainly left a lasting impact on the music industry and has a dedicated fan base around the world. The final show is likely to be a significant and emotional event for both the band and their fans.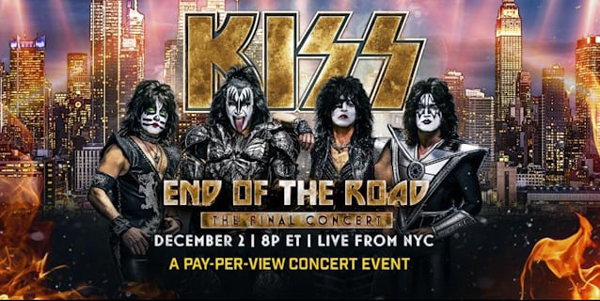 THE KILLERS COMING OUT WITH "REBEL DIAMONDS" - THE BEST OF COLLECTION!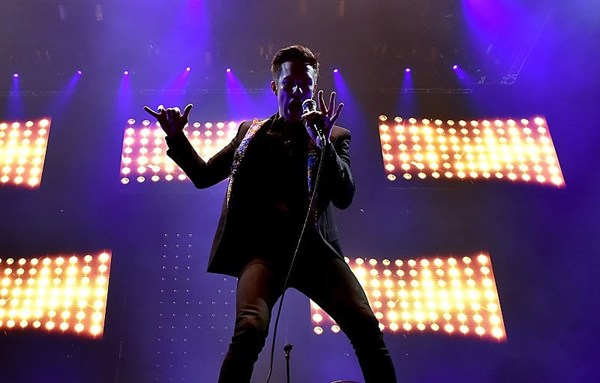 The Killers have officially revealed their upcoming best of collection "Rebel Diamonds", will be arriving just in time for the holidays, featuring familiar songs and new classics taken from the band's 20 year career.

Putting out there "19 classics" that fans know and love, like "Mr. Brightside," "When You Were Young," "Human," "Boy," "The Man," and more, The band will also include their brand new track, "Spirit,"

The Rebel Diamonds best of The killers collection will be available on December 8.
JAMES HETFIELD SIGNING COPIES OF BOOK: ''MESSENGERS: GUITARS OF JAMES HETFIELD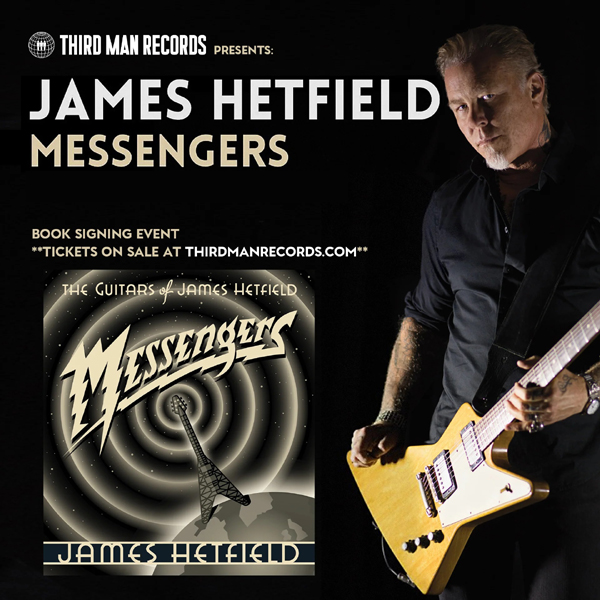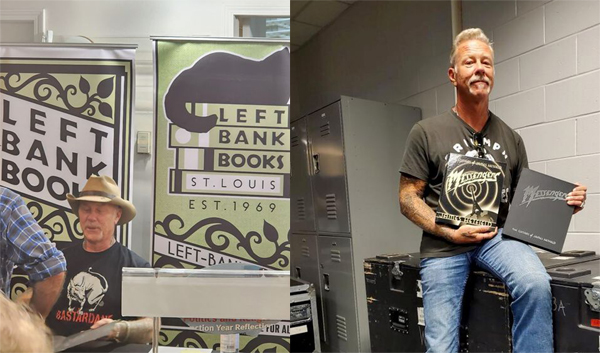 This past Saturday signed copies of the book: Messengers: Guitars Of James Hetfield was given to all fans who attended the event in St.Louis, Missouri at "Left Bank Books.'
The book "Messengers: The Guitars Of James Hetfield" is a 400 page book, where James Hetfield shares his personal guitars collection and reveals the story and significance of each one within his life and career as the frontman, guitarist and songwriter for METALLICA.
The book is set to release on November 21, Via "Permuted Press."
KISS PLAYING LIVE AT HOLLYWOOD BOWL FIRST TIME EVER!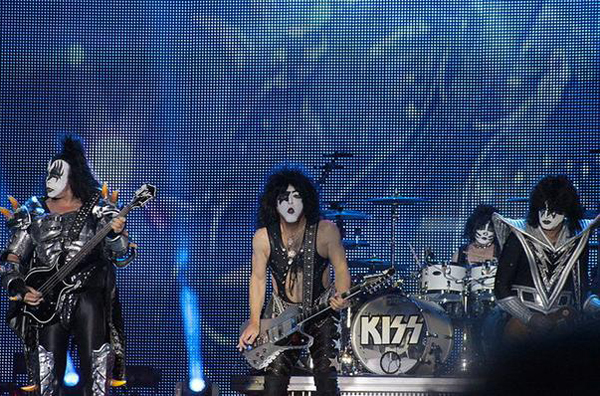 We all know that the Hollywood Bowl is a renowned outdoor music venue, and last night Kiss played live from it for the first time ever! it's a significant milestone for the band to perform there as part of their "End Of The Road" farewell tour. KISS has had a long and influential career in the world of rock music, and it's fitting that they would choose such an iconic location for one of their final performances.
The final shows from the band to conclude their "End Of The Road" farewell tour with a massive concert will be at Madison Square Garden in New York City. New York holds a special place in the band's history, and it's where their career first took off. Madison Square Garden is one of the most iconic and prestigious venues in the world, and it's a perfect choice for KISS to bid farewell to their fans in a city that has played a significant role in their journey as a legendary rock act. This final show is sure to be a historic and emotional event for both the band and their dedicated fan base.
The "End Of The Road" tour was originally scheduled to conclude on July 17, 2021 in New York City but has since been extended to late 2023.

KISS, formed in 1973 by Paul Stanley, Gene Simmons, Peter Criss, and Ace Frehley, has had a long and storied career. Their first "farewell" tour took place in 2000, and it was the last tour to feature the group's original lineup.

GREEN DAY + SMASHING PUMPKINS + RANCID 2024 TOUR DATES ANNOUNCED! U.S - EU/UK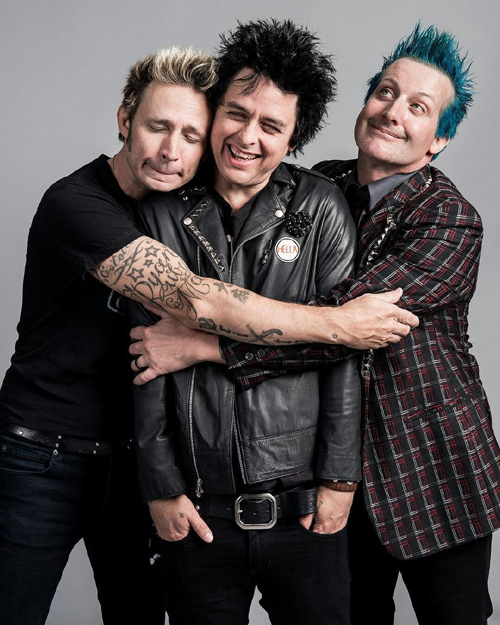 Exciting news for fans of Green Day! A U.S. stadium tour visiting 27 cities with support from The Smashing Pumpkins, Rancid, and the Linda Lindas sounds like an amazing lineup. Green Day is known for their energetic performances, and having these other bands as support acts should make for an unforgettable concert experience.

The tour is to celebrate the 30th anniversary of their iconic album "Dookie" and the 20th anniversary of "American Idiot" as well. Both albums are considered classics in the world of punk and alternative rock music. The tour will likely feature performances of songs from these albums, and it's sure to be a memorable experience for fans of Green Day and their music.

The Saviors tour's schedule is set to kick off on July 29 in Washington, D.C., and it will wrap up on September 28 in San Diego. Fans who are looking to attend these concerts can mark their calendars because tickets for the general public will go on sale this Friday. It's important to be prepared and ready to purchase tickets when they become available, as popular tours like this one often sell out quickly. Make sure to check the official ticketing website or authorized vendors for more information on ticket sales and availability.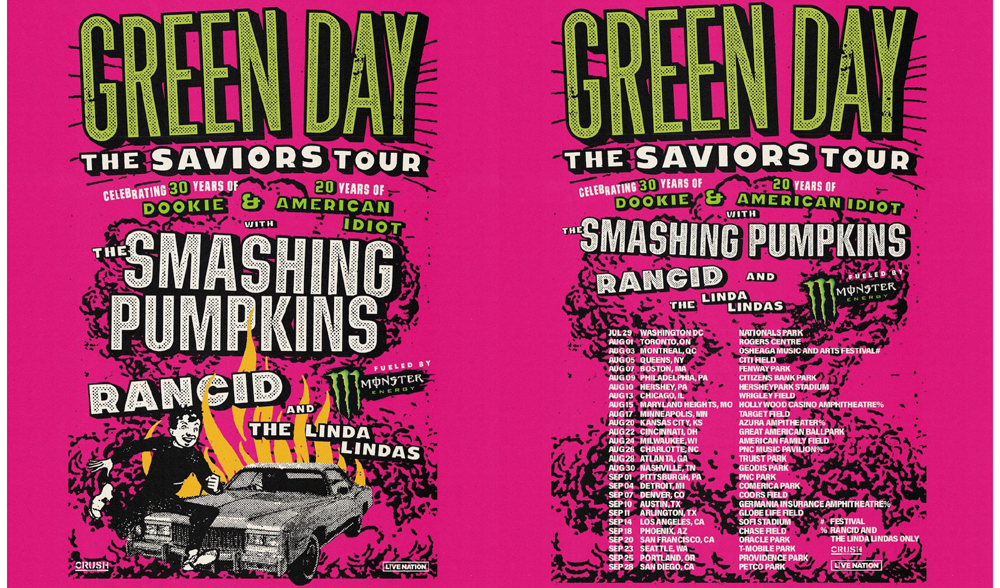 THE "PRINCE OF DARKNESS'' OZZY OSBOURNE WILL BE HONORED AT THE UK ICON AWARDS!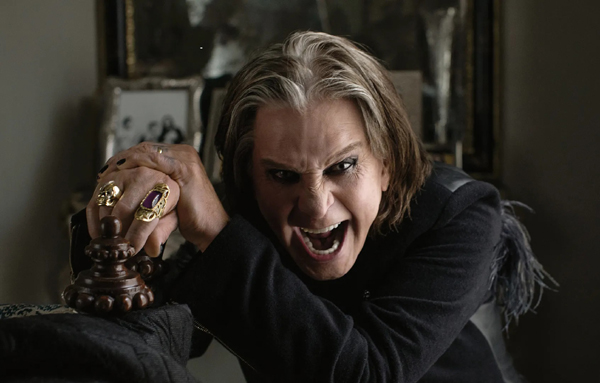 Ozzy Osbourne is set to be honored with the Icon Award at the Rolling Stone UK Awards. Despite his health challenges, it's wonderful to hear that he will be in attendance to make a speech and be part of the event, even if he won't be performing. Ozzy Osbourne has had a significant impact on the world of music, particularly in the realm of heavy metal, and this award is a well-deserved recognition of his contributions to the industry. What a great way to celebrate his legendary career and influence!!

The UK Awards is set to take place on November 23 at the Roundhouse in Camden Town, London
Ozzy said: "I don't know what to say! I wish I felt like a fucking icon.
"I've had a long career and I've raised a few fucking eyebrows along the way, and I've met some amazing people too. I've done some good gigs and I've done some fucking bad gigs!

"Thanks very much for giving me this award, it really means a lot to me." ---

...And if you love Ozzy, don't forget to catch up their new podcast episode (eighth episode) along with Sharon Osbourne, Jack and Kelly. This week, Ozzy, Sharon, Kelly and Jack delve into the heart history of Ozzfest!
''METALLICA'S ''JAMES HETFIELD NEWEST HAND TATTOO!!!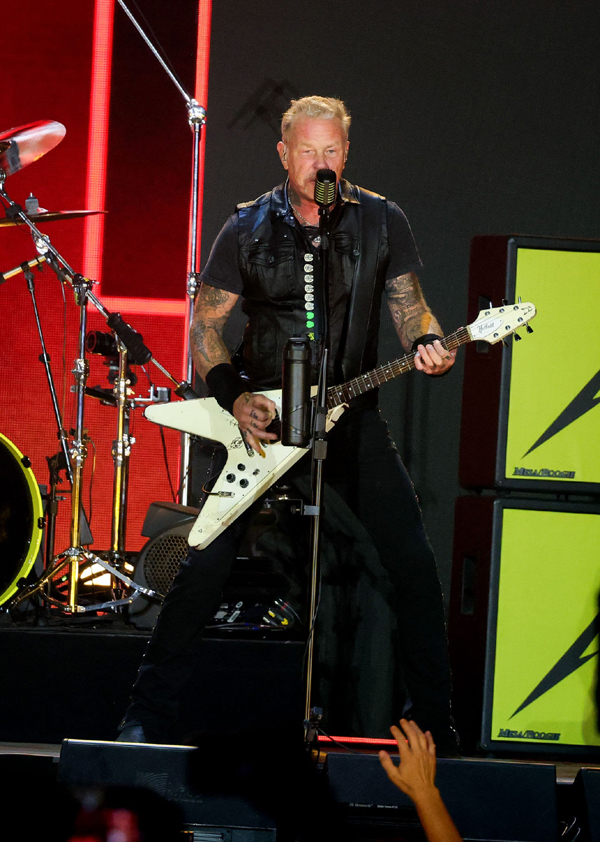 James Hetfield, the lead vocalist and rhythm guitarist of Metallica, who is sometimes affectionately referred to as "Papa Het'' now officially got his right hand tattooed ''Papa Het"!
Just to remember that in the middle of october he actually sat in the same tattoo chair when he got a new neck tattoo as well.
The tattoo artist ''Corey Miller", the same artist responsible for James neck tattoo said "is a "huge honor" to work with one of "the greatest rockers in the world," noting it was a "fun hang."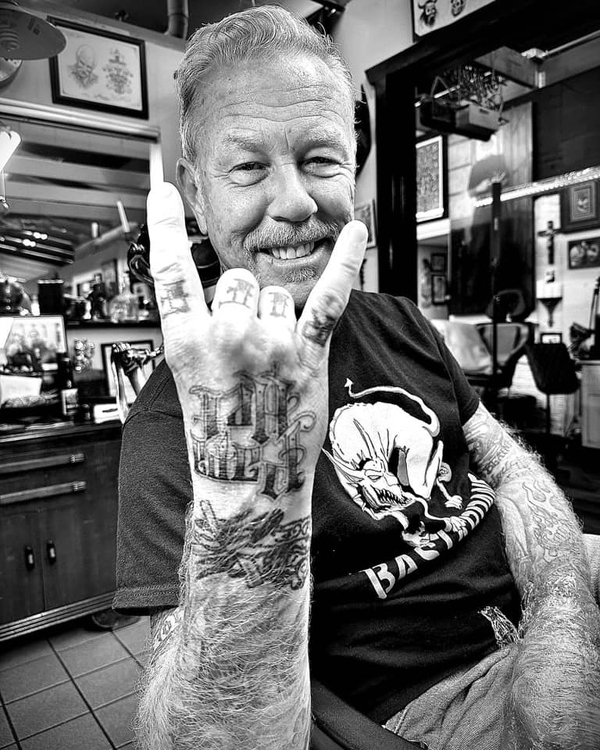 IRON MAIDEN ANNOUNCES NORTH AMERICAN TOUR 2024 ''FUTURE PAST''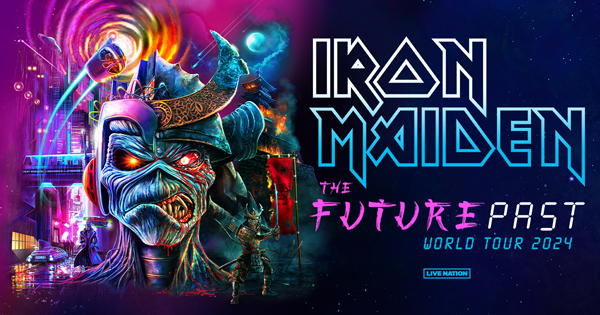 Iron Maiden has extended their "Future Past Tour" with North American dates scheduled for October and November 2024. This legendary British heavy metal band is known for their incredible live performances, and their tours are always highly anticipated by fans. The tour will cover a significant portion of North America, including cities like San Diego and San Antonio, and will even feature a stop at the Aftershock Festival in Sacramento, California. Iron Maiden's concerts are famous for their elaborate stage setups and a setlist that spans their extensive career. Fans are sure to be excited about these additional tour dates.

The tour started on Oct 4 in San Diego and now concludes on Nov 17 in San Antonio.

Tickets are on sale now!
EVANESCENCE LIVE IN SAO PAULO! (BRAZIL)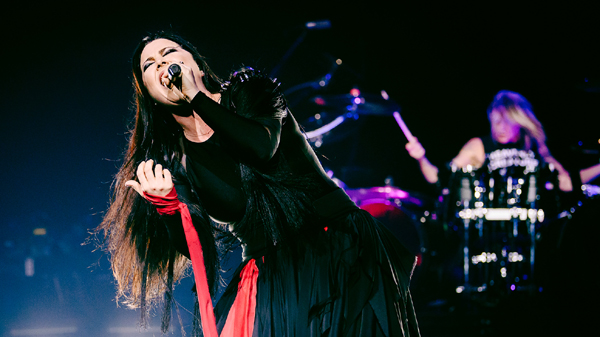 Evanescence has certainly had a remarkable journey since their breakout with "Bring Me To Life" in 2003. Their impressive track record of over 25 million album sales worldwide and two Grammy awards highlights their significant impact on the music industry.

Despite going through a few line-up changes over the years, the band is now made up of frontwoman Amy Lee, guitarist Troy McLawhorn, bassist Tim McCord and drummer Will Hunt, as well as touring musician Emma Anzai, who provides bass and backing vocals.

The American band performed yesterday in Sao Paulo at "Allianz Parque" and pulled out an amazing live concert for all the fans.
The band arrived this Thursday, October 19th in Curitiba, the first of six shows to perform in the country this week and first in the country since 2017.
After visiting the capital Paraná, the North American group will play in São Paulo (October 21st), Rio de Janeiro (October 23rd), Belo Horizonte (October 25th and 26th) and Recife (October 28th).
The band is touring their latest album bitter truth released in 2021, also celebrates the 20th anniversary of their critically acclaimed debut album fell.
According to setlists from the band's most recent shows in countries like Mexico and Argentina, fans were treated to songs like "Bring Me to Life," "My Immortal," "Going Under" and "Imaginary."

Ticket competition was very high, but through the Eventim website you can guarantee tickets for selected segments of the show in São Paulo, Belo Horizonte (26th) and Recife.

IT'S OFFICIAL NOW! KORN AND ADIDAS FINALLY JOINED FORCES!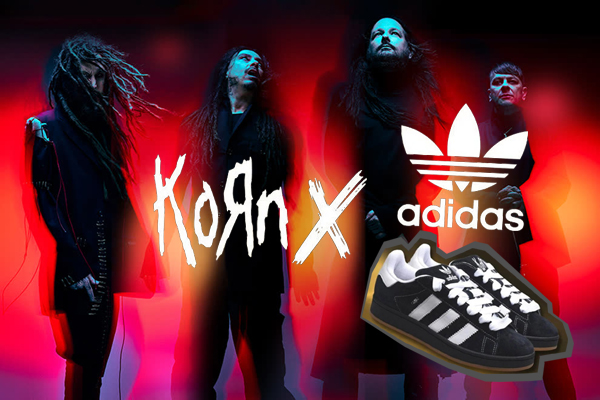 Adidas Originals and the band Korn have joined forces to collaborate and create a new collection that celebrates Korn's legacy and cultural impact. These types of collaborations between fashion brands and influential musicians often result in unique and limited-edition clothing and footwear items that are inspired by the artist's style and legacy. Fans of both Adidas Originals and Korn are likely to be excited about this partnership and the collection it has produced.

The connection between Korn and Adidas Originals is significant and rooted in their shared history. Korn's choice to wear classic Three Stripes Adidas tracksuits when they emerged on the music scene 30 years ago was a departure from the established aesthetic norms of the genre and contributed to their distinctive image. The enduring relationship between Korn and Adidas Originals, as immortalized in the band's 1996 song "A.D.I.D.A.S," showcases the impact of their unique partnership on both the music and fashion worlds. It's clear that this collaboration is a celebration of their shared legacy and the influence they've had on music and style.

The collection includes a range of items, such as graphic t-shirts, a hoodie with the band's logo, and signature Adidas Originals tracksuits, with one in black and white accents and another featuring purple sequins. The addition of graphic insoles, spare laces, KoRn logos, a guitar pick keychain, and a co-branded box for the footwear collection adds a unique touch and makes these items even more appealing to collectors and fans of the band.

Arriving on October 27th, the first adidas Originals and KoRn collection is available on CONFIRMED, adidas.com, and via select retailers.

BMTH ANNOUNCES AUSTRALIAN 2024 TOUR WITH SLEEP TOKEN!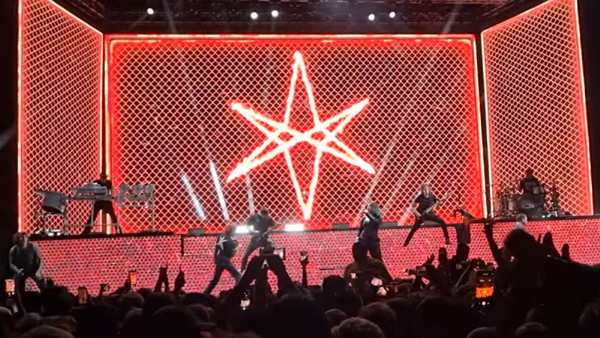 Exciting lineup for music fans in Australia!!! Bring Me The Horizon "British rock" band is having Sleep Token, Make Them Suffer, and daine as supporting acts for their shows in April.

Fans in Sydney, Adelaide, Melbourne, and Brisbane can now mark their calendars and prepare for an incredible night of live music next April. Make sure to get your tickets early, as they are likely to be in high demand.

April 2024 14 Sydney Qudos Bank Arena - 17 Adelaide Entertainment Centre - 18 Melbourne Rod Laver Arena - 20 Brisbane Riverstage.

Tickets go on sale next Monday, Oct 23 at 9am.

CALIFORNIA ROCKERS FROM "PAPA ROACH" SURPASSES ONE BILLION STREAMS ON "LAST REOSRT" ON SPOTIFY!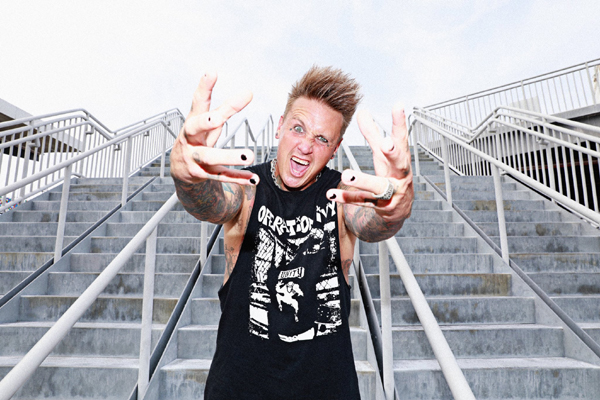 Papa Roach! Achieving a billion streams on Spotify is a significant milestone and reflects the enduring popularity of their classic song "Last Resort." Spotify's Billions Club is a way to recognize and celebrate the most-streamed songs on the platform, and it's an honor for artists to receive the Billions Club plaque as a token of their achievement. It's a testament to the song's impact and the band's continued influence in the music industry.

"Last Resort" has joined the ranks of iconic songs like "Nothing Else Matters" by Metallica, "Eye of the Tiger" by Survivor, "Dancing Queen" by ABBA, and "I Wanna Dance With Somebody" by Whitney Houston in the Billions Club. Reaching a billion streams is indeed a remarkable accomplishment, and it's great to see so many tracks achieving this milestone on Spotify.
"NIRVANA" 30TH ANNIVERSARY - TRACK "DUMB" REMASTERED FROM NIRVANA'S ALBUM "IN UTERO"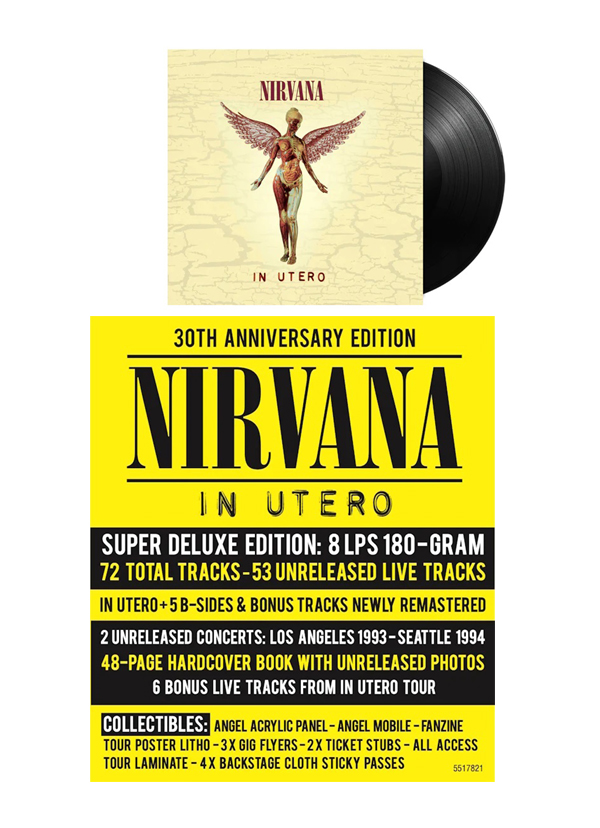 Exciting news for Nirvana fans that the band is preparing a reissue of their third and final studio album, "In Utero," with a release date set for October 27 via Geffen/Ume. This reissue appears to be packed with live material, offering a total of 53 tracks from historical shows that were never released by the band.
The release of a visualizer for the track "Dumb" on Nirvana's YouTube channel, created from hand-painted super-8mm film by artist RuffMercy (Russ Murphy), adds an intriguing visual element to the reissue.
Nirvana also released a digital single featuring "Pennyroyal Tea" (Live in Los Angeles) and "Scentless Apprentice" (Live in Seattle). These live recordings should provide fans with a unique opportunity to experience Nirvana's iconic songs in a new light.
The live material was reconstructed from stereo tapes recorded by Jack Endino, who played a significant role in capturing the band's sound. The album and bonus tracks/B-sides were remastered from the original analog stereo tapes by Bob Weston, who assisted Steve Albini during the original recording sessions. It's interesting to note that artificial intelligence software was used to optimize the sound quality of this material, demonstrating the ongoing advancements in technology applied to music production. Krist Novoselic, the band's bassist, appears to have been involved in this process, ensuring that the reissue sounds as good as possible.
Nirvana's music continues to captivate audiences, and this reissue promises to be a treat for both longtime fans and those discovering the band's music for the first time.


BLACK SABBATH TO RE-RELEASE VINYL ALBUM FROM OZZY'S ERA ON THE 70'S!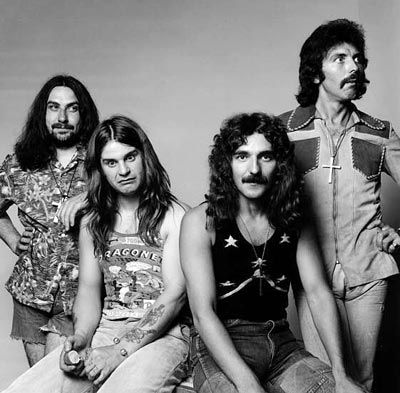 That's exciting news for Black Sabbath fans! Black Sabbath's first eight albums are considered classics in the world of heavy metal and rock music. These albums, released between 1970 and 1978, feature some of the band's most iconic songs and have had a significant influence on the development of the genre.
The release of these albums as a limited-edition picture disc box set is likely to be a collector's dream. Picture discs often feature artwork or images related to the band and album, making them visually appealing for fans.
If you're a fan of Black Sabbath, this box set would be a great addition to your collection. It's an opportunity to own these iconic albums in a special format that pays homage to the band's history and legacy. Enjoy the music and the visual appeal of the picture discs!
This limited-edition set will be available on December 1.
SYSTEM OF A DOWN AND SLIPKNOT TO HEADLINE "SICK NEW WORLD 2024 FESTIVAL"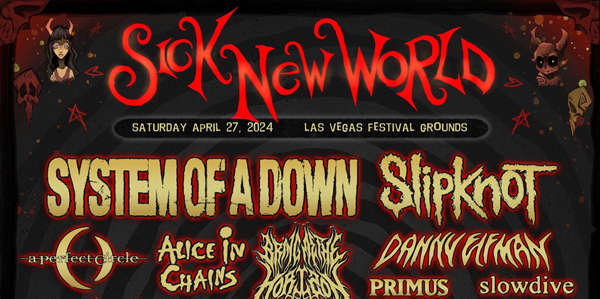 That sounds like an incredible lineup for Sick New World in 2024! With headliners like SYSTEM OF A DOWN and other renowned artists like SLIPKNOT, BRING ME THE HORIZON, A PERFECT CIRCLE, ALICE IN CHAINS, Danny Elfman, BAD OMENS, SLEEP TOKEN, KNOCKED LOOSE, and many more, it's sure to be an unforgettable event for fans of hard rock and alternative music. The fact that it's returning to the Las Vegas Festival Grounds adds to the excitement, as it provides a great venue for such a massive gathering of artists and fans. Marking its second year with such a stellar lineup, Sick New World is definitely a festival to look forward to in 2024!

Fans can sign up now for the festival SMS list at SickNewWorldFest.com to receive an access code for the presale that will begin Friday, October 13 at 10 a.m. PT. Any remaining tickets following the presale will go on sale to the general public on Friday, October 13 at 2 p.m. PT. GA, GA+, VIP, and VIP Cabana Tickets will be available, with layaway payment plans starting at $19.99 down.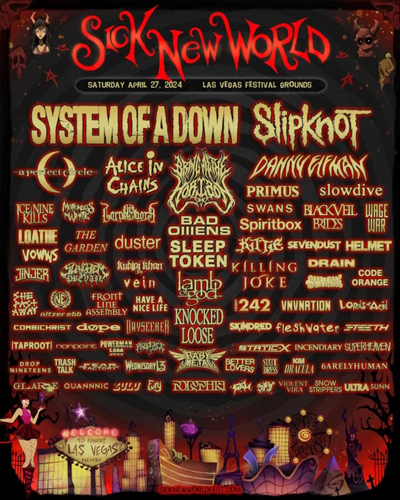 METALLICA CLOSES THE POWER TRIP FESTIVAL NIGHT WITH A POWERFULL SET LIST!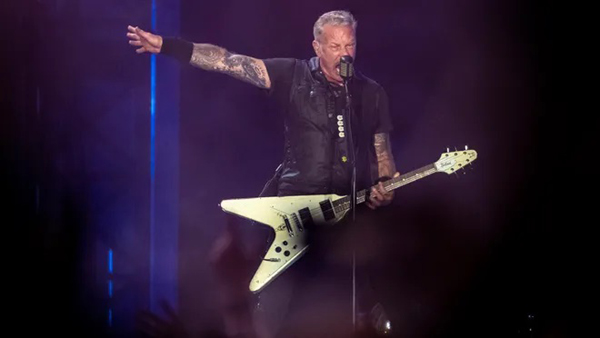 Metallica electrified the festival and began with the banger "Whiplash" from the 1983 album "Kill 'Em All" and then two from its sophomore album, "Ride the Lightning," starting with "Creeping Death" and followed by "For Whom The Bell Tolls."

"Whiplash" and "Creeping Death" are both high-energy, classic Metallica songs that are great choices for opening a concert. They have been staples of Metallica's live performances for many years.

The concept of the "No Repeat Weekend" suggests that Metallica is playing different sets for each show in a city, which is a way to keep their performances fresh and exciting for fans attending multiple concerts during the same tour. This approach allows Metallica to showcase a wide range of their music and cater to different tastes within their fanbase.
"Boiling down their rotating set lists into one all-killer, no-filler thrill ride of hits" indicates that Metallica is focusing on playing their most popular and well-loved songs, creating an unforgettable concert experience for their audience.
Overall, Metallica's commitment to delivering a memorable live performance is a key part of their enduring popularity as a live act.
But closing out a once-in-a-lifetime festival such as Power Trip is on the same level, and Metallica didn't disappoint on Sunday night, exposing the stage's structure from the inside out and creating a multi-video screen production.

JUDAS PRIEST ANNOUNCES NEW ALBUM AT POWER TRIP FESTIVAL!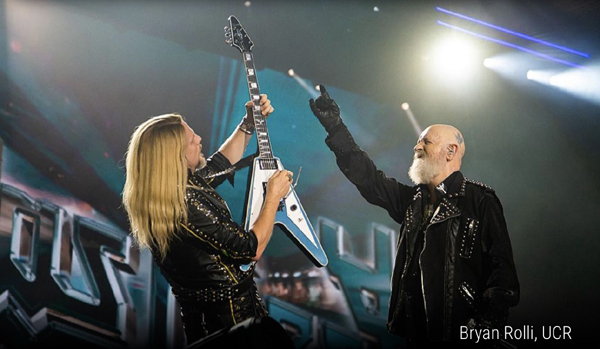 Judas Priest finally hit the stage at the long-awaited Power Trip festival, playing in place of Ozzy Osbourne at the three day "heavy metal Power Trip Festival as part of an insane venue also including Metallica, AC/DC, Guns N' Roses, TOOL and Iron Maiden.

Judas Priest putted an electrifying performance with a setlist that included both classic hits and some lesser-played gems. Opening with "Electric Eye," "Riding on the Wind," and "Heading Out to the Highway" would undoubtedly have set an energetic tone for the concert.
"The Sentinel," "Rapid Fire," "A Touch of Evil," and "Desert Plains" are all beloved tracks from the band's extensive catalog, and fans would likely have appreciated the deviation from the usual setlist.
Judas Priest has a history of performing iconic cover songs like Joan Baez's "Diamonds & Rust" and Fleetwood Mac's "The Green Manalishi (With the Two Prong Crown)," and these choices can add a unique flavor to their live shows.
"Firepower" and "Lightning Strike," from their album "Firepower," are powerful and dynamic tracks that showcase Rob Halford's impressive vocal range, which has been a hallmark of the band's sound.
And then the announcement of Judas Priest's 19th studio album, "Invincible Shield," was for sure to be a significant news for fans of the band. After a six-year gap since their previous studio release, it's no surprise that fans would be eagerly anticipating new music from this iconic group. The title, cover art, and release date are essential details that fans would want to know to prepare for the album's arrival.

AC/DC BACK AFTER MORE THAN SEVEN YEARS! TRIUMPHANT RETURN AT POWER TRIP FESTIVAL LAST NIGHT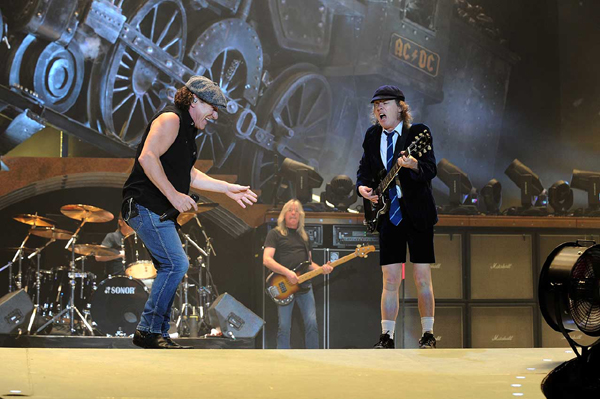 AC/DC is a legendary rock band known for their high-energy performances and iconic songs. It was an unforgettable experience for those in attendance to witness their return to the stage after such a long hiatus. Live debuts and rare performances of songs not played in decades.

A triumphant return to the stage on Saturday at Power Trip, commemorating their first performance in more than seven years with a few live debuts and songs not performed in decades!

Starting the concert with the combination of "If You Want Blood (You've Got It)" and "Back in Black" would have undoubtedly set an electrifying tone for the entire show. These are classic AC/DC songs that have been beloved by fans for decades.
Debuting "Demon Fire" from their 2020 album "Power Up" must have been a thrilling moment for fans who were eager to hear new material from the band. "Power Up" was a highly anticipated album as it marked the return of the classic AC/DC lineup, and seeing them perform a track from it live would have been a highlight of the evening.
And to cap it off with another live debut, "Shot in the Dark," would have been a fantastic way to keep the energy going and showcase more of their newer music. AC/DC has a knack for delivering powerful and unforgettable live performances, and it sounds like this show was no exception with a 24-song setlist filled with classics and new tracks.
THE LONG AWAITED DAY ONE AT POWER TRIP FESTIVAL WITH IRON MAIDEN AND GNR's!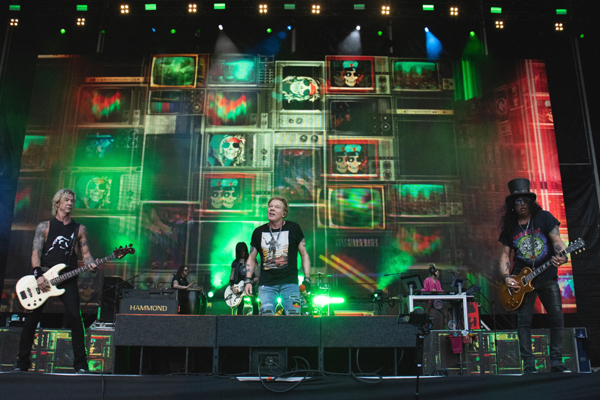 Last night was the first day of the "Power Trip festival", Guns N' Roses delivered an electrifying performance at the Power Trip event, despite the dropping temperatures. The band, known as Hollywood's glam-punk heroes, took the stage at 10 pm and left a lasting impression.

This performance marked a notable difference from their previous appearance at the Coachella grounds when Axl Rose had to perform from a throne. This time, Axl Rose was back on his feet and in full form.
The setlist for their performance featured a mix of their classic hits and songs from their album "Chinese Democracy." The show opened with "It's So Easy" and seamlessly transitioned into "Bad Obsession." They then played "Chinese Democracy" and followed it up with "Slither." The setlist continued with "Pretty Tied Up" leading into the iconic "Mr. Brownstone."
Guns N' Roses put on a high-energy show that thrilled their fans, showcasing their enduring stage presence and musical prowess.
3 DAYS AWAY FROM THE BIGGEST WEEKEND DAY ''POWER TRIP FESTIVAL''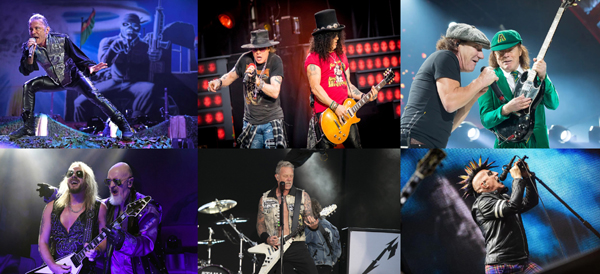 Power Trip Festival with an incredible lineup from Rock to heavy metal, in the California desert! starting this friday, saturday and sunday. Having six iconic bands like Guns N' Roses, AC/DC, Metallica, Iron Maiden, Judas Priest, and Tool all performing headlining-length sets is a dream come true for fans of these genres.
Each of these bands has a rich history and a massive catalog of hits, so festivalgoers can expect to hear some of their most beloved songs, along with potentially some surprises and special moments during the performances.
The Empire Polo Club's location in the California desert provides a picturesque backdrop for these events, with its wide-open spaces and beautiful desert scenery. Its history of hosting major music festivals has solidified its reputation as one of the premier festival venues in the United States.

"Power Trip" will be an exciting chapter to the history of music events at the Empire Polo Club, continuing the tradition of bringing top-tier musical acts to the California desert.
THE FOO FIGHTERS HAVE ANNOUNCED ''EVERYTHING OR NOTHING AT ALL" TOUR 2024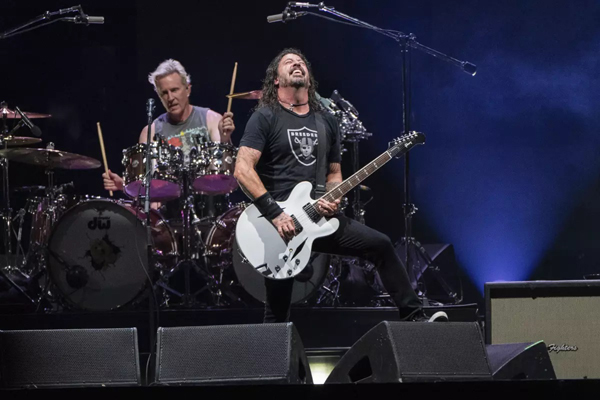 That's exciting news for Foo Fighters fans! A 2024 U.S. stadium tour, especially with the West Coast leg opening in San Diego, is sure to be a highly anticipated event. Foo Fighters have a dedicated fan base, and their live performances are known for their energy and enthusiasm. If you're interested in attending the concert, be sure to keep an eye out for ticket announcements and sale dates so you can secure your spot at the show. It's bound to be a memorable experience!

The lineup of all supporting acts are: the Pretenders, Mammoth WVH, L7, the Hives, Amyl and the Sniffers, and Alex G.

Once again for those who are eager to attend the concert, it's important to mark your calendar for the ticket sale date, which is on a Friday. Make sure to check the band's official website or the ticketing platform's website for specific times and details regarding ticket sales. This tour promises to be a memorable experience for Foo Fighters fans across the United States.

Tour dates are:
Foo Fighters, Everything or Nothing at All 2024 U.S. Tour
July 17 – New York, NY @ Citi Field
July 19 – New York, NY @ Citi Field
July 21 – Boston, MA @ Fenway Park
July 23 – Hershey, PA @ Hersheypark Stadium
July 25 – Cincinnati, OH @ Great American Ballpark
July 28 – Minneapolis, MN @ Target Field
Aug. 3 – Denver, CO @ Empower Field at Mile High
Aug. 7 – San Diego, CA @ Petco Park
Aug. 9 – Los Angeles, CA @ BMO Stadium
Aug. 11 – Los Angeles, CA @ BMO Stadium
Aug. 16 – Portland, OR @ Providence Park Soccer Stadium
Aug. 18 – Seattle, WA @ T-Mobile Park



AEROSMITH POSTPONE FAREWELL TOUR DUE TO VOCAL INJURY!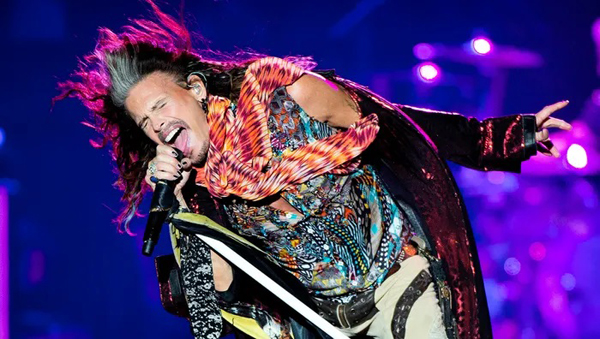 Aerosmith frontman Steven Tyler has fractured his larynx, forcing the band to postpone its remaining tour dates until next year.

"His doctor confirmed that in addition to the damage to his vocal cords, he fractured his larynx, which requires ongoing care," the statement said. "He is receiving the best medical treatment available to ensure his recovery is swift, but given the nature of the fracture, he has been told that patience is essential." The new dates for 2024 will be announced "as soon as we have more information."
Tyler wrote a statement: "I'm heartbroken not to be with Aerosmith, my brothers and the amazing Black Crowes [guest band on the tour], rocking with the best fans in the world. I promise we'll be back as soon as possible!"
Earlier this month, the Boston-based band postponed six dates in North America after the 75-year-old singer suffered damage to his vocal cords.
EVANESCENSE ALBUM ''FALLEN'' 20TH ANNIVERSARY BOX SET DELUXE!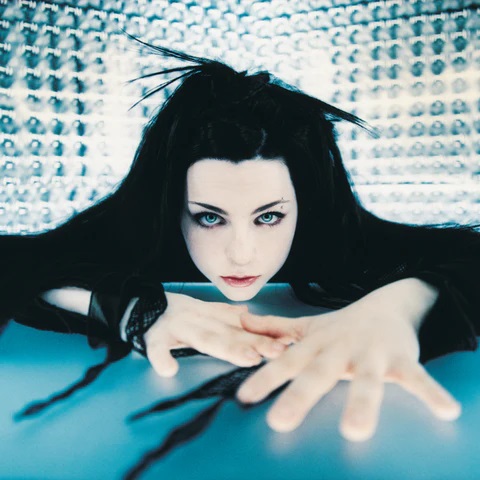 "Fallen" is indeed an iconic album in the rock and alternative music genres, featuring hit songs like "Bring Me to Life" and "My Immortal."

This iconic record will be remastered and released on November 17, with the band also sharing plenty of extras if you're into the physical packages: from old live recordings to unreleased demos (including a newly-shared 2002 demo of Bring Me To Life, rare photos, a track-by-track book and a handwritten foreword by Amy Lee in the super deluxe version.

"20 years later, this album has never meant more," Fallen has been the soundtrack to first loves, epic heartbreak, self-realisation, wedding days, last goodbyes, friendships, and countless other moments in so many lives… not to mention my own. I am forever humbled and grateful to be a part of it." - "Ammy Lee said on an interview. -

MOTIONLESS IN WHITE "FAN" GETS REPRIMANDED FOR BRINGING HIS DOG TO THE CONCERT

Following a Motionless In White recent show in Scranton, PA, drummer Vinny Mauro, took to social media to express his concern after seeing a dog in the crowd. According to Vinny, the dog was being held "in the air for three hours," something the 29-year-old said really got under his skin.

----- "Seeing the dog in the pit at our Scranton show really bummed me out," the musician shared via X. "I wanna go on record to say unless your dog is literally deaf and blind and somehow also loves to be held in the air for 3 hours, do not bring them to a show, headphones or not." -----
DEFTONES NEW MATERIAL COMING AND WORKING ON NEW ALBUM!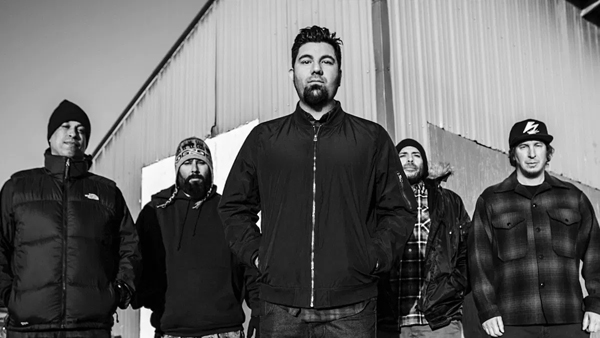 DEFTONES guitarist Stephen Carpenter confirmed that he and his bandmates are working on their new album with producer Nick Raskulinecz (RUSH, MASTODON, ALICE IN CHAINS). On an interview to the podcast Gnostic Academy.This will mark DEFTONES' third collaboration with Nick, having previously worked with him on 2010's "Diamond Eyes" and 2012's "Koi No Yokan" LPs.

METALLICA's ''VEGAN'' TRICK TO STAY IN SHAPE DURING THE TOURS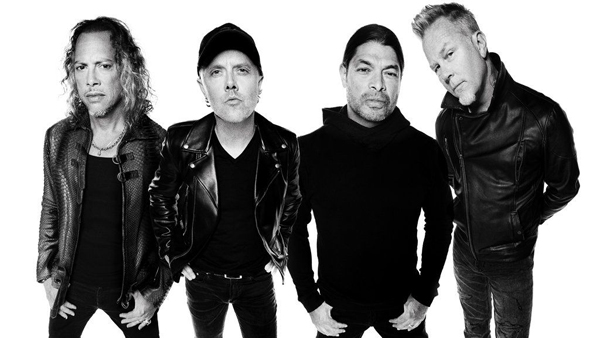 Metallica is currently in the middle of a new world tour titled "M72", which promotes their recently released album 72 Seasons and is characterized by presenting two shows with different sevenelists in each city through which it passes.
Over the past four decades, many of the legendary band's performances have been fueled by alcohol and drugs. Currently, Lars Ulrich (59), James Hetfield (60), Kirk Hammett (60) and Robert Trujillo (58) are turning to healthier habits, according to an interview with the Wall Street Journal (WSJ) highlighted by VegNews.Com
Lars" revealed that the group is steeped in new practices that include getting plenty of sleep, practicing yoga and performing calisthenics exercises. The band is also mindful about having enough time between concert dates to prioritize family and well-being.
Another trick to leading a healthier life on and off stage, according to the drummer, is to consume a healthy diet that includes tofu, a powerful plant-based protein. The band is touring with chefs who prepare organic meals to help musicians maintain this lifestyle so they can continue to entertain their fans on tour. "Ultimately, more than anything, you want to try to stay sane, and healthy," Lars'' told the WSJ. "That's the number one thing.
The VegNews.Com points out that Metallica's selection of tofu is noteworthy given the growing evidence on the role of soy protein in muscle maintenance and metabolic health. That is, tofu is the most rock and roll food of a vegan diet and its consumption has already been adopted by artists such as Paul McCartney, Lenny Kravitz and Gavin Rossdale, lead singer of Bush.
U2's MSG SPHERE IN LAS VEGAS IS ALMOST READY TO OPEN!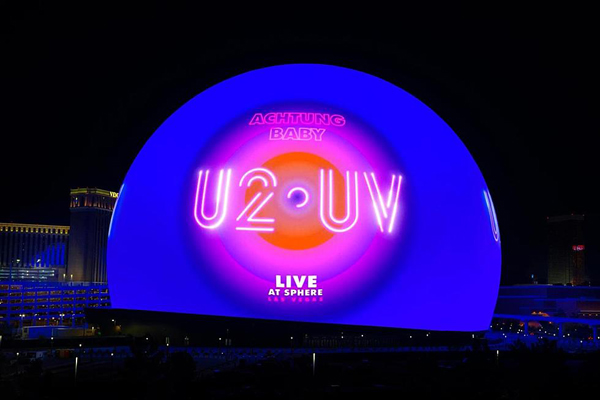 Exciting news for U2 fans! It's always a significant moment when a legendary band like U2 performs at a new venue. Their residency starting on September 29th and running until December 16th promises to be a fantastic experience for their fans.
The addition of the "Zoo Station: A U2:UV Experience" pop-up fan portal on September 28th sounds like a great opportunity for fans to immerse themselves in U2's world with photos, screenings, and exclusive merchandise. It's a creative way to enhance the overall concert experience and engage with the band's history and culture. U2 has a loyal fan base, and events like this can make the concert even more memorable for them. Enjoy the show if you're planning to attend!
Built by the Madison Square Garden Entertainment Corp., the $2.3 billion venue is the biggest spherical structure in the world, boasting the largest programmable LED screen ever made. It has a seated capacity of 17,600, or 20,000 standing.



AEROSMITH FAREWELL TOUR IT'S ON!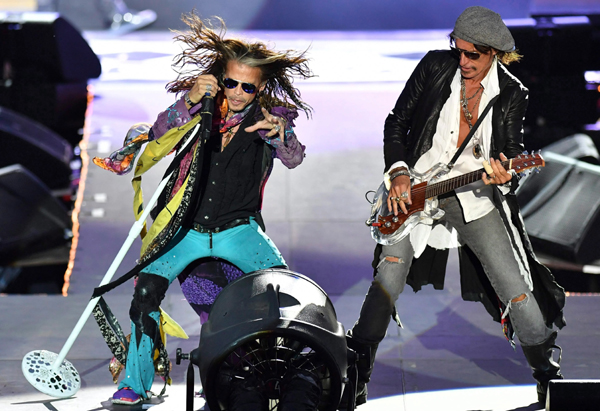 Aerosmith kicked off their "Peace Out" farewell tour on September 2nd at the Wells Fargo Center in Philadelphia, Pennsylvania. Aerosmith is known for their iconic rock music and has a dedicated fan base, so it's no surprise that the concert was full of classic tracks and surprises. The inclusion of The Black Crowes as support must have added to the excitement of the event. Farewell tours are often emotional and special for both the band and their fans, as they provide an opportunity to celebrate the band's long and successful career. It sounds like a memorable night for Aerosmith aficionados and music lovers in general.

'DOG' WATCHES METALLICA M72 TOUR CONCERT FOR FREE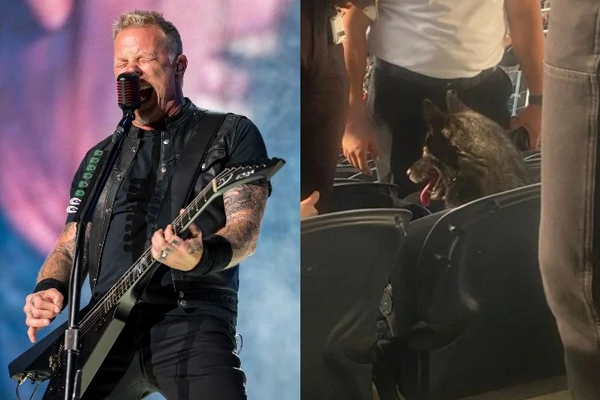 It's quite a heartwarming and unique story that Metallica shared about their unexpected four-legged fan, Storm. It's not uncommon for pets, particularly dogs, to be drawn to loud noises and music, and it seems Storm had a great time enjoying Metallica's performance.

It's also a testament to Metallica's enduring appeal and powerful live performances that even a dog couldn't resist staying for the entire 16-song set. Music can have a universal and profound effect on all living creatures, and it's lovely to hear that Storm had a memorable musical experience with one of the biggest rock bands in the world.
Later on the social media Metallica explained about the adorable situation and shared a photo of the very content-looking Storm, writing: "You might have heard we had a four-legged fan join us for #M72LA! Despite reports to the contrary, our friend Storm snuck out of her home adjacent to SoFi Stadium and made her way to the gig all by herself.

"After a full night taking in the show with her #MetallicaFamily, Storm was safely reunited with her actual family the next day."
Then, because they couldn't resist, they added: "She had a great time listening to her favorite songs, including Barx Æterna, Master Of Puppies and The Mailman That Never Comes. And in case you were wondering, no. You definitely shouldn't bring your furry friends to the #M72 World Tour. But this dog sure did have her day…"
Dogs are just the greatest.
QUEENS OF THE STONE AGE CANCELS "THE TOWN" IN SAO PAULO, BRAZIL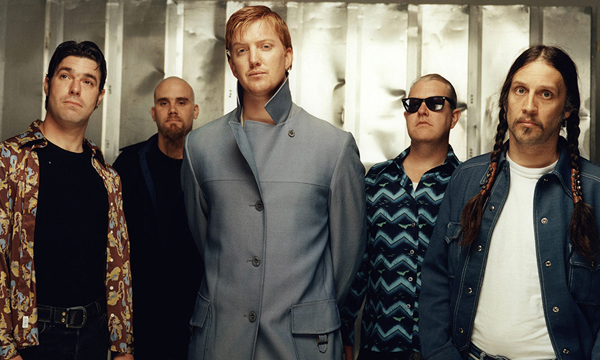 Queens of the Stone Age won't be performing at The Town Festival in São Paulo, Brazil on September 9 due to medical recommendations. Via social media the band announced.

"Unfortunately, that's not going to happen, as the band confirmed with the following declaration: "Following doctor's advice, QOTSA regret to announce we are no longer able to travel to Brazil to perform at The Town. We apologize for any inconvenience caused and look forward to coming to Brazil in 2024."



SLEEP TOKEN CONFIRMED AT THE SOLD OUT ''OVO ARENA" WEMBLEY IN DECEMBER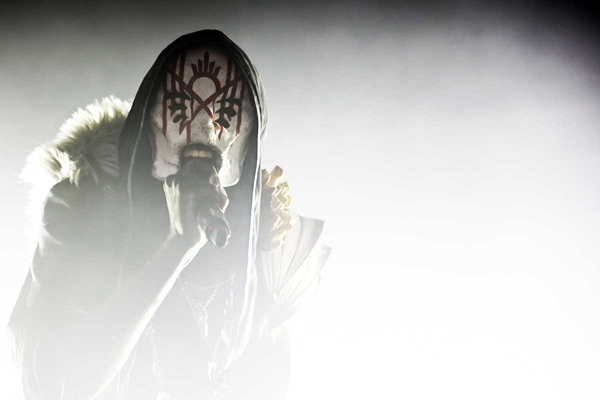 Sleep Token has announced that cult heroes HEALTH will be the supporting act for their upcoming Wembley show at the London OVO Arena on Saturday, December 16. The gig, which has a capacity of 10,000, sold out quickly after tickets went on sale. In addition to the Wembley show, HEALTH will also join Sleep Token for their European 'headline rituals' in Germany, with concerts scheduled in Munich, Hamburg, Berlin, Leipzig, and Cologne between December 5 and 11. It seems like fans are in for an exciting series of shows with this impressive lineup!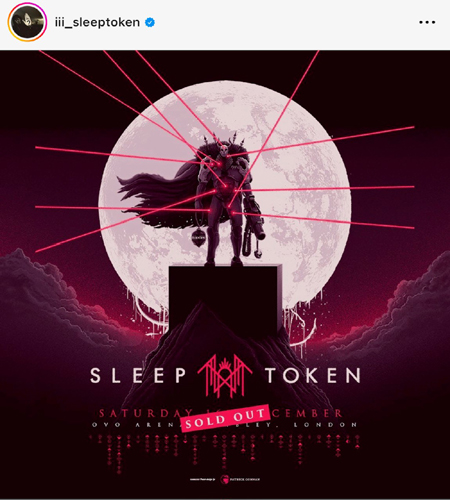 BULLET FOR VALENTINE HEADLINING TOUR 2023 NORTH AMERICA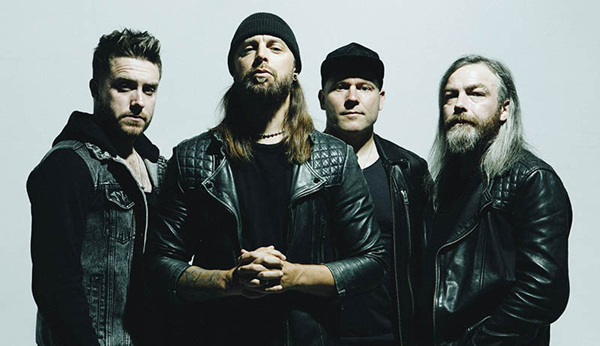 Bullet for My Valentine, a well-known Welsh metal band, is embarking on their first North American headlining tour in October. The 22-date trek will begin on October 8 in Montreal, Quebec, Canada, and will conclude on November 10 in Orlando, Florida.
Joining them on the tour as support acts are two other bands: Of Mice & Men and Vended. Fans can look forward to an energetic and memorable experience as these bands hit the stage across various cities in North America.
Bullet for My Valentine is a metal band from Bridgend, Wales. They formed in 1998 and have since gained significant popularity in the rock and metal scene.

In a statement the band said: "Attention please!! So after 5 long years we're finally heading back to the USA and Canada for a proper headline tour!! We cannot wait to play and see you all again, it's been far too long!! We're gonna be bringing our old friends in OF MICE & MEN and heavy metal upstarts VENDED along for the ride so get ready for some serious mosh pit action!! Make sure you pick up your tickets fast as we're expecting them to fly out. VIP packages are also gonna be available on this tour for the first time in years. More info to follow. See ya there".

THE ICONIC ALTERNATIVE BAND "HELMET" ANNOUNCED U.S TOUR 2023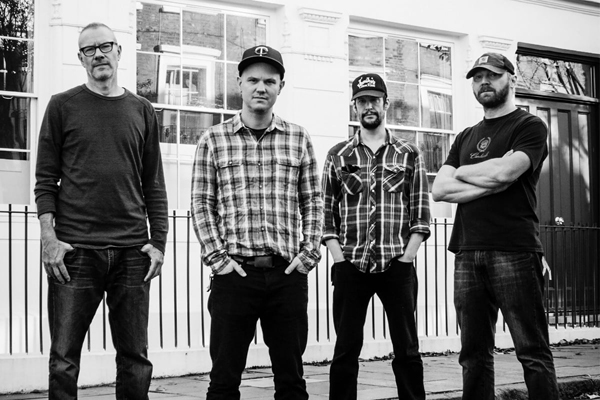 HELMET's upcoming U.S. tour starts in September 2023, with special guest "Soul Blind." supporting the tour.
HELMET new album called "LEFT" is set to release in November this year via earMUSIC.

The American alternative metal band that was formed in New York City in 1989. The band was founded by lead vocalist and guitarist Page Hamilton, who has been the only consistent member throughout Helmet's various line-up changes over the years. Page Hamilton's distinctive guitar playing and vocal style have been central to the band's sound.
Helmet gained prominence in the early 1990s as part of the alternative rock and post-hardcore movements. They are known for their heavy and aggressive music, characterized by intricate guitar riffs, complex rhythms, and thought-provoking lyrics. Helmet's music often combines elements of alternative rock, metal, and hardcore punk, making their sound unique and influential.
Some of their most well-known albums include "Strap It On" (1990), "Meantime" (1992), "Betty" (1994), and "Aftertaste" (1997). Over the years, Helmet has gone through several hiatuses and lineup changes, but Page Hamilton has continued to lead the band and release new music.
Helmet's music has left a significant impact on the alternative and metal scenes, and their contributions to the genre have garnered them a dedicated fan base over the years.
PAPA ROACH "JACOBY SHADDIX" SAYS KORN, PAPA ROACH AND DEFTONES WILL BE THE NEXT METALLICA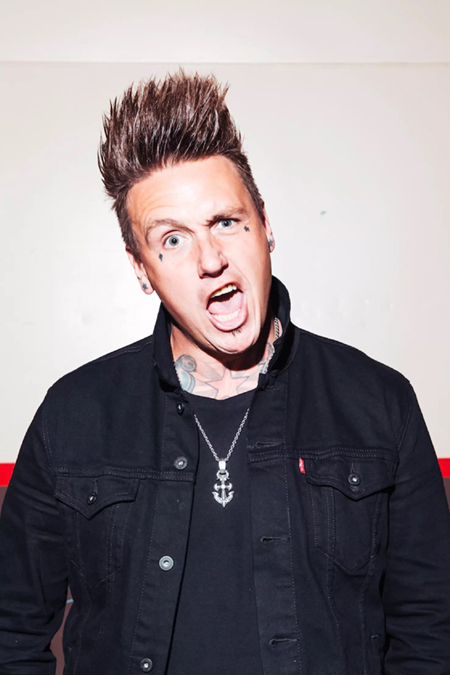 PAPA ROACH frontman Jacoby Shaddix addressed that there is always the concern that none of the newer bands will be there to ascend to an arena-level status to take the place of heritage acts upon their retirement, on an interview for a radio station ("Iowa radio station Lazer").

"We're watching METALLICA step into that ROLLING STONES spot right now. And FOO FIGHTERS are another one of those groups. And KORN, PAPA ROACH [and] DEFTONES, we're like the next METALLICAs. You know what I mean? That's it. We're stepping into that spot now. It just comes to, I guess, being able to survive the treachery of this rock and roll life. And if you can do that and still continue to create good art and good music, then we can get into that space."

"It was my goal, honestly, since childhood. When we first formed PAPA ROACH back in 1993, we were, like, 'We wanna do this till like we're just old friends from young years.' And now we're here."

Metallica is one of the most successful and enduring bands in the history of heavy metal, and it is challenging for any group to achieve the same level of cultural significance. However, Korn, Papa Roach, and Deftones have all enjoyed significant success and have loyal fan bases of their own. They have made a lasting impact on the rock and metal genres and continue to be influential.
Whether they can reach the same level of fame as Metallica is uncertain, but each band has the potential to continue growing their careers and contributing to the music scene in their unique ways.
GUNS AND ROSES NEW SINGLE COULD BE OUT VERY SOON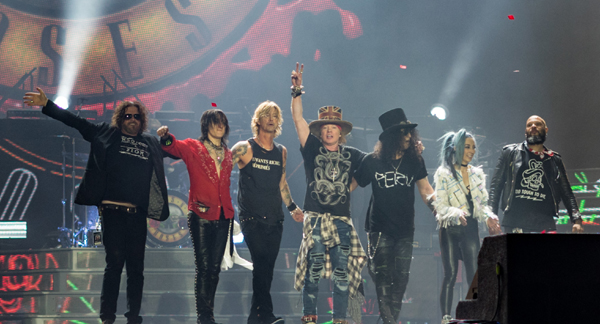 GUNS N' ROSES longtime production manager, Tom Mayhue, has confirmed that a new single from the band is coming very soon.

They've got a bunch of stuff recorded already, so there will be new GUNS N' ROSES music very soon. In fact, I think they're trying to get a single out any day now, so you may hear something very, very soon."

"It sounds great. It's a lot more kind of 'Appetite [For Destruction]'-orientated. They had a lot of songs. When the band went in originally and recorded 'Appetite For Destruction', I think they recorded, like, 29 songs. So there's a bunch of other music that was left over that didn't make the first record. I think there's only 11 songs on the first record."
The highest-ranked rock bands and artists on digital platforms is Linkin Park three times in the Top 5 of the genre's most-listened-to albums on Spotify.

The best album is the "20th anniversary edition of Meteora," an album originally released by Mike Shinoda's band in 2003, which reached the 72nd place in the overall ranking.

The same album also appeared in the 138th place, but this time with its original version. Linkin Park's other appearance on the list was the bonus edition of their debut album Hybrid Theory (2000), which peaked at number 120.

JUDAS PRIEST WILL REPLACE OZZY OSBOURNE AT THE POWER TRIP FESTIVAL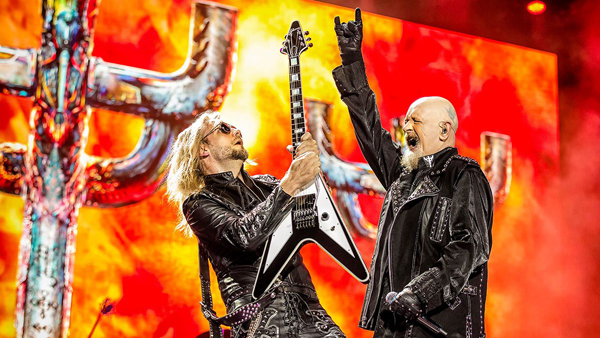 Judas Priest will replace Ozzy Osbourne as a headlining performer at this year's Power Trip festival, that will take place on Oct. 6,7 and 8. in Indio, California.
Ozzy, who had previously stated his plan to retire from touring, announced on Monday that he would be pulling out of the festival due to his health.
"My original plan was to return to the stage in the summer of 2024, and when the offer to do this show came in, I optimistically moved forward," Ozzy, explained in a statement. "Unfortunately, my body is telling me that I'm just not ready yet and I am much too proud to have the first show that I do in nearly five years be half-assed." -
Ozzy called Judas Priest "personal friends of mine, and I can promise that you will not be disappointed."







STEVE HARRIS FALLS ON STAGE DURING IRON MAIDEN'S CONCERT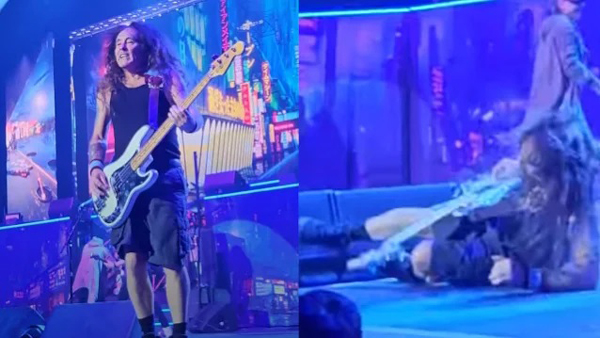 Steve Harris slipped and fell on stage during IRON MAIDEN's concert in Leeds, England late last month. The incident occurred during the second track of MAIDEN's 15-song set on June 28 at First Direct Arena when the bassist was trying to make his way to the front of the stage between stage monitors. According to First To The Barrier, "Steve finished out the set with no issues and put on an excellent show for all the fans". The Leeds concert was part of the U.K. leg of IRON MAIDEN's "The Future Past Tour", which kicked off on June 26 in Glasgow.

DAYSEEKER ANNOUNCES U.S HEADLINING TOUR DATES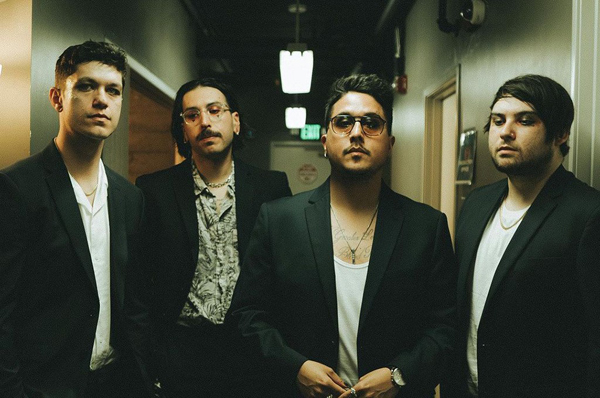 Dayseeker's September headline tour with Silent Planet and Moxy sounds like an exciting lineup. With 15 dates and stops at festivals like Rocklahoma in Pryor, OK, and Blue Ridge Rock Fest in Alton, VA, fans will have multiple opportunities to catch their favorite bands live. The tour promises to be a thrilling experience for attendees. Tickets will be available for purchase starting this Friday, July 7, at 10 am local time. Make sure to mark your calendar and get your tickets early to secure your spot at the show!

Dayseeker has plans for additional dates after their upcoming tour. In their social media post, they mentioned that there is a bigger picture and various factors behind the scenes that influence their choice of cities for specific tours. They also expressed their commitment to showing love to areas that may not frequently receive concerts.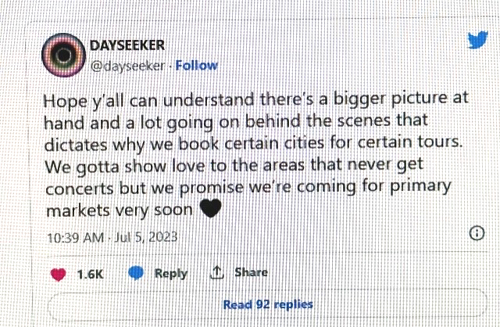 ANGRA SIGNS DEAL WITH ATOMIC FIRE RECORDS AND ANNOUNCES NEW ALBUM "CYCLES OF PAIN'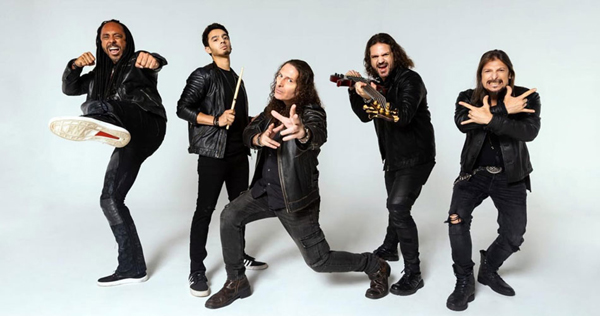 Brazilian progressive power metal band Angra is signing a deal with Atomic Fire Records for their tenth studio album, "Cycles Of Pain," is an exciting development for their fans. The album's release date of November 3 will undoubtedly generate much anticipation and excitement.
To celebrate the release of "Cycles Of Pain," ANGRA has planned a special record-release show at São Paulo, Brazil's Tokio Marine Hall. This concert will provide an opportunity for fans to experience the new material live and witness ANGRA's captivating stage presence. It's bound to be a memorable event for all attendees.

Angra was formed in 1991, ANGRA's current lineup includes vocalist Fabio Lione (ATHENA XIX, ex-RHAPSODY OF FIRE, ex-VISION DIVINE) alongside Rafael Bittencourt and Marcelo Barbosa on guitars, Felipe Andreoli on bass and Bruno Valverde on drums.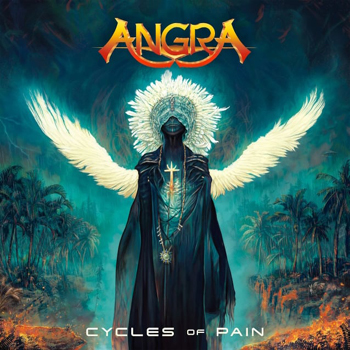 BUTCHER BABIES TO RELEASE A NEW DOUBLE ALBUM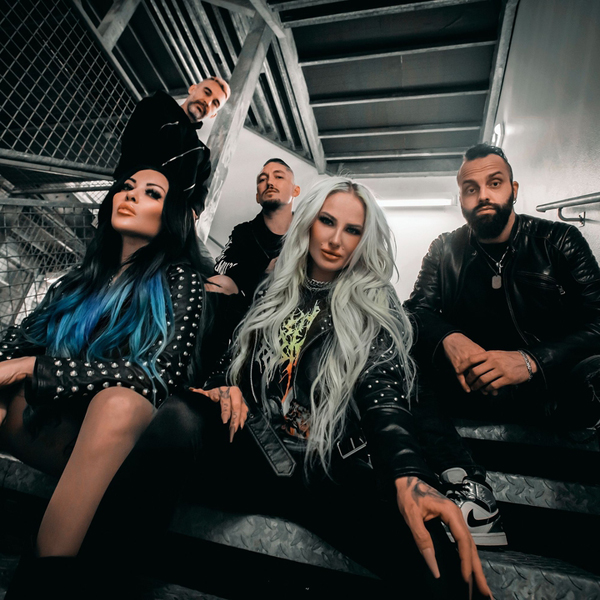 Butcher Babies' album "Lilith" was released in 2017 and was produced by Steve Evetts, known for his work with bands like The Dillinger Escape Plan, Sepultura, and Suicide Silence. It was the band's first recording with drummer Chase Brickenden, who joined Butcher Babies in 2016, replacing Chris Warner. "Lilith" showcased the band's heavy and aggressive sound, and it received positive reviews from both fans and critics.

In July 2019, longtime BUTCHER BABIES bassist Jason Klein announced his departure from the band. He has since been replaced by Ricky Bonazza.

BUTCHER BABIES new double album "Eye For An Eye..." and "…'Til The World's Blind",will be released on July 7. The double album is to celebrate the "tenth anniversary" of BUTCHER BABIES' critically acclaimed debut, "Goliath", that was released on July 9, 2013 via Century Media Records.

RINGO STARR CONFIRMS THAT THE BEATLES WOULD ''NEVER'' USE ''AI'' VOICE ON JOHN LENNO'S TRACK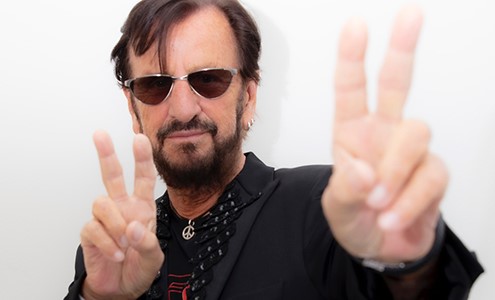 Later this month as Paul McCartney revealed that the unnamed song was completed with the help of "AI", and was built off an old Lennon demo tape. - "We were able to take John's voice and get it pure through this AI so that then we could mix the record as you would normally do — it gives you some sort of leeway," he explained. "So there's a good side to it and then a scary side and we'll just have to see where that leads."

Earlier this week Ringo Starr confirmed that the Beatles would "never" fake Lennon's vocals in a new interview for an upcoming episode of our Rolling Stone Music Now podcast.

And Ringo Starr also confirmed that George Harrison did record his parts for the song before his death in 2001. "This was beautiful," says Starr, "and it's the final track you'll ever hear with the four lads. And that's a fact." Starr wouldn't confirm the name of the song, but the fact of Harrison's participation almost certainly means the track is "Now and Then," a Lennon demo that McCartney, Harrison, and Starr did some work on during the same sessions that produced "Free As A Bird" and "Real Love," which also used vocals harvested from Lennon demos.
Later on Twitter Paul McCartney clarified: "Seems to be a lot of guess work out there," "Can't say too much at this stage but to be clear, nothing has been artificially or synthetically created. It's all real and we all play on it. We cleaned up some existing recordings, a process which has gone on for years. We hope you love it as much as we do. More news in due course."



OTTO AND BASTARDANE, THE TWO BANDS FROM METALLICA'S SON'S MEMBERS ANNOUNCED SUMMER/FALL 2023 TOUR

BASTARDANE, the band featuring drummer Castor Hetfield, the son of METALLICA frontman James Hetfield, and the band OTTTO, the three-piece band featuring Tye Trujillo, the son of METALLICA bassist Robert Trujillo, will be hitting the road for a North American summer tour including several performances as part of the METALLICA Weekend 2023 Takeover.

"We are very excited to be going back out on the road and taking 'Life Is A Game' to new audiences," says OTTTO singer/guitar player Bryan Noah Ferretti, referring to the Venice, California-based trio's debut full-length album, which arrived this spring.

"We love music and we love the boys in OTTTO," adds Castor Hetfield. "WARNING: Mayhem, insanity, and ascension may occur."

BILLY IDOL REFUSES TO PLAY ''ANARCHY IN THE U.K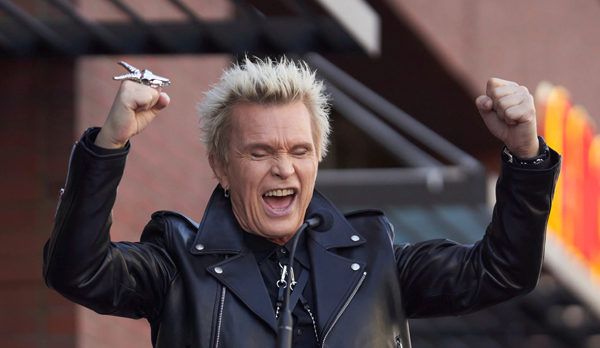 Billy Idol will be joining the two others Sex Pistols members for his latest project, but the singer is steadfast in his decision not to perform the punk band's classic "Anarchy in the U.K."
Generation Sex is the hybrid group featuring Idol and bassist Tony James of the band Generation X, joining forces with Sex Pistols guitarist Steve Jones and drummer Paul Cook. The supergroup recently set out on a string of dates in Europe, including a stop at the Glastonbury festival.
It's notable that Generation Sex, the collaboration between Billy Idol, Tony James, Steve Jones, and Paul Cook, has chosen not to include the classic Sex Pistols song "Anarchy in the U.K." in their set lists. Artists and bands often make decisions about their set lists based on various factors, including personal preferences, the desired flow of the performance, and the desire to showcase different aspects of their musical careers. While it's unclear why "Anarchy in the U.K." has been omitted, it's possible that the group wants to focus on other material and create a unique experience for their audience. Fans attending their performances can still expect to hear songs from both the Sex Pistols and Generation X catalogs.

"We're not doing 'Anarchy in the U.K.," Idol confirmed to The Times, before revealing his reasoning. "It's such a Johnny Rotten song. 'God Save the Queen' and 'Pretty Vacant', I can get away with those."
"I don't think I'm Johnny Rotten or anything," the singer insisted. "Obviously I'm doing [Sex Pistols songs] how they're meant to be done but at the same time, yeah, I'm being me."
MECHANICAL BULL GETS "OZZY OSBOURNE" NAME IN BIRMINGHAM'S COMMOMWEALTH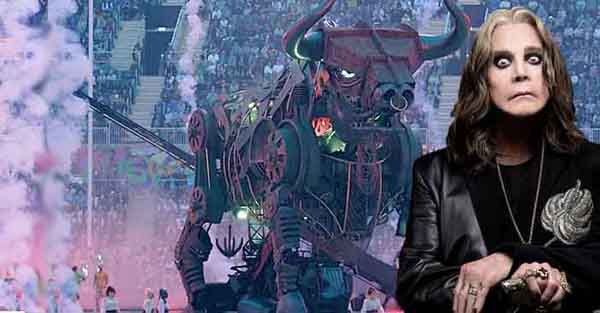 The mechanical bull, which gained significant attention at the opening ceremony of the 2022 Commonwealth Games, has now been named after Ozzy Osbourne. The decision to name the 10-meter-tall sculpture after the iconic musician came through a public vote.
Initially, the plan was to dismantle the bull after the games. However, a petition with approximately 10,000 signatures advocated for its preservation, and as a result, the bull will now have a permanent spot at the city's railway station. This outcome highlights the public's appreciation for the sculpture and their desire to see it continue to be enjoyed by locals and visitors alike.
"I'm absolutely blown away. Thank you to everyone who voted," Ozzy said in a video sent to the BBC after receiving the news from the British broadcaster.

This isn't the first time Ozzy and Black Sabbath have been honoured by the city. Previous salutes include a star on Broad Street, a metal bench, and a tram named after the singer.

OZZY'S DAUGHTER " KELLY OSBOURNE " SHARES FIRST PICTURE OF HER SON WITH 'SID WILSON' FROM THE BAND SLIPKNOT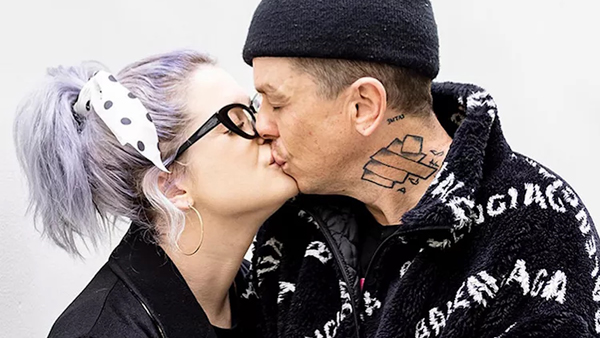 Kelly Osbourne, the 38 years old daughter of Ozzy and Sharon Osbourne, shared the first up-close photo of her baby, a boy named Sidney, whom she welcomed late last year.

In the photo, which Kelly uploaded to her Instagram page, Sidney is dressed up as a bat, a call back to the infamous moment Kelly's father bit the head off a bat live on stage in 1982. Kelly did not caption the picture, and chose to leave comments turned off.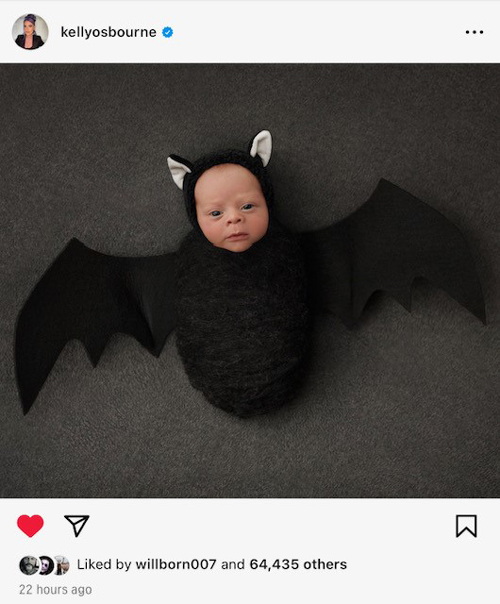 AEROSMITH TO RELEASE A NEW "HUGE" GREATEST HIT ALBUM COLLECTION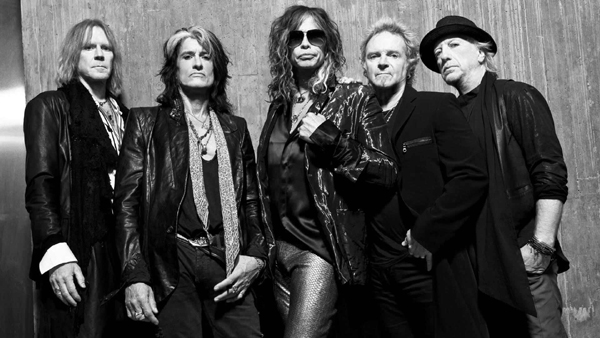 Aerosmith, being a legendary rock band with a long and successful career, has released several greatest hits albums throughout their history. If they do release a 44-song collection in the future, it would likely include their most well-known hits from different periods of their career.

Including songs from each era of Aerosmith's career, from '70s hits like "Walk This Way" to '90s classics like "I Don't Want to Miss a Thing," would indeed give fans a chance to experience the band's evolution over the years. The addition of deluxe editions with various extras such as packaging curated by the band, custom colored vinyl, lithos, and a book would enhance the overall experience for collectors and avid fans.

You can check more of the album cover here.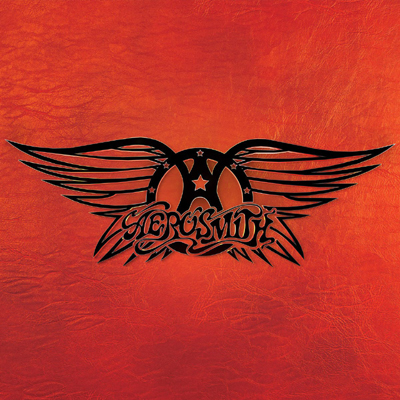 AI Music Is Eligible to Win Grammy Awards 2024 know the rules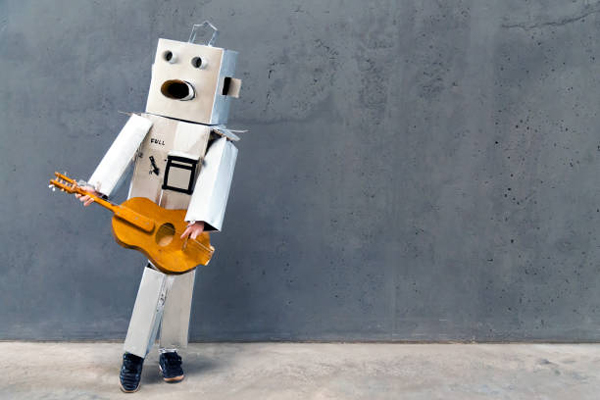 The Recording Academy has indeed announced new rules regarding the eligibility of AI-created music for Grammy consideration. According to the protocols mentioned in Variety, music created solely by AI is not eligible for Grammy nomination. However, if there is a "meaningful" human contribution involved in the creation of music using AI technology, it can still be considered for a Grammy nomination.
The protocol states that a work that incorporates AI elements can be eligible in applicable Grammy categories, but it clarifies that only human creators are eligible to be submitted for consideration, nominated, or win a Grammy Award. It explicitly states that a work with no human authorship is not eligible in any Grammy categories.
These new rules appear to be an acknowledgment of the increasing role of AI in music creation while emphasizing the importance of human creativity and contribution in the artistic process. This ensures that the Grammy Awards continue to recognize and celebrate the human aspect of music production and performance.
The Recording Academy's new rules come during a contentious time for the music industry as it grapples with the increasing volume of AI music. Earlier this week, Paul McCartney announced plans to release a new Beatles song that he said was made possible by AI technology.

In addition to its new AI guidelines, the Recording Academy has also added three new awards categories for the 2024 Grammys: Best Alternative Jazz Album, Best Pop Dance Recording, and Best African Music Performance.
And finally, in a change that will make Grammy competition even tighter, the four main categories—Album of the Year, Song of the Year, Record of the Year, and Best New Artist—will all scale down, from 10 nominees apiece to only eight.
LISTEN TO AN "AI " VERSION OF AXL ROSE SINGING 'FALL TO PIECES' FROM THE BAND 'VELVET REVOLVER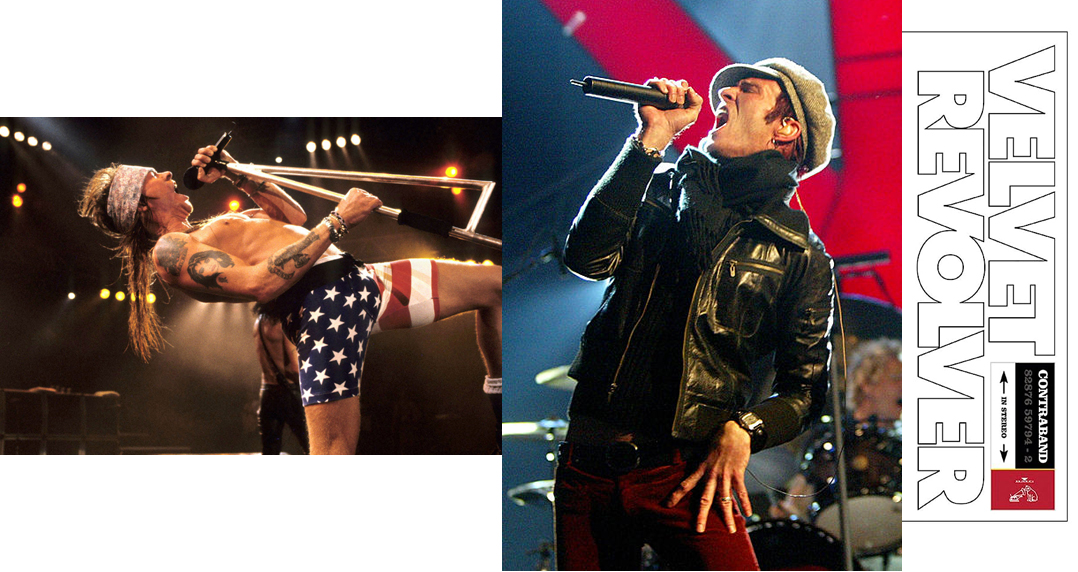 The use of artificial intelligence (AI) in the music community has indeed grown significantly in recent times. AI technologies have the ability to recreate songs using different voices and instruments, leading to fascinating possibilities and new creative avenues.

"Fall to Pieces" was featured on the band's 2004 debut album Contraband. They only released one more record, Libertad (2007), before Weiland left the band.



NOTHING MORE ANNOUNCE HEADLINING TOUR DATES
Nothing More have already been touring extensively and are now adding headlining dates shows their growing popularity and demand. It's great to hear that they are promoting their album "Spirits" and taking their music to different parts of the world.
Starting their headline trek on September 8 in Nashville sounds like a fantastic way to kick off the fall season. It's always special for a band to have the opportunity to headline their own shows and connect directly with their fans. Having support from bands like Dead Poet Society, Hyro the Hero, and Post Profit will surely make the tour even more memorable for the fans attending the shows.
Nothing More is in for an exciting and busy year, with a packed summer schedule supporting Godsmack and Staind, followed by their own headline tour in the fall. Fans of the band will definitely have plenty of opportunities to catch their energetic live performances and experience their music firsthand.

As the band still promoting their new album "Spirits" that feat. "Lacey Sturm" on the song "Best Times." Lacey Sturm, known for her work with Flyleaf, brings her unique vocal style and presence to the track, adding another layer of depth and diversity to Nothing More's sound.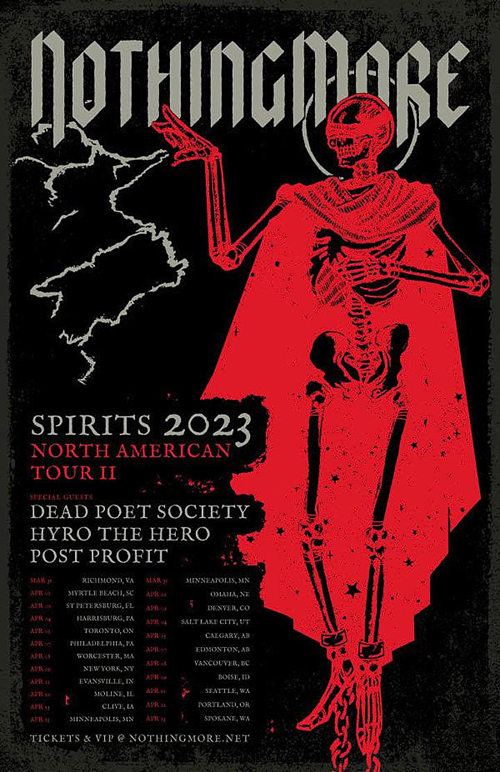 "AI " Tecnology has helped " Paul McCartney on a new Beatles Record that it's on the way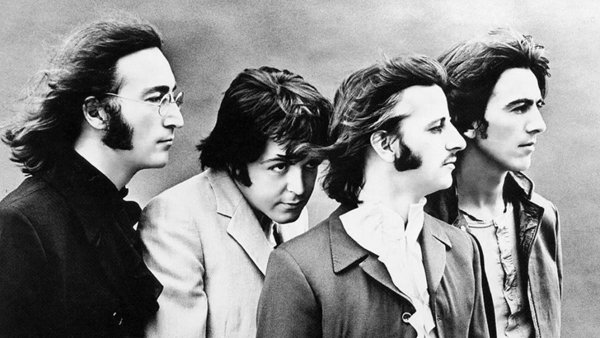 The last Beatles and final record album have been completed with the help of "AI" (artificial intelligence), according to Paul McCartney. The unnamed track was built from a John Lennon demo tape. "We just finished it up, it will be released this year," McCartney told BBC Radio 4' during an interview to promote his new photo book, 1964: Eyes of the Storm.
"When we came to make what will be the last Beatles record, it was a demo that John had that we worked on," he explained. "We were able to take John's voice and get it pure through this AI so that then we could mix the record as you would normally do it gives you some sort of leeway. So there's a good side to it and then a scary side and we'll just have to see where that leads."
In the mid-1990s, the surviving members of The Beatles, Paul McCartney, George Harrison, and Ringo Starr, did work on completing two unfinished John Lennon demos, "Free as a Bird" and "Real Love," for release as Beatles songs. However, they did not physically reunite as a band to work on these songs.
John Lennon had recorded the demos of "Free as a Bird" and "Real Love" during the 1970s. After his death in 1980, McCartney, Harrison, and Starr decided to complete these songs and release them as Beatles tracks. They enlisted the help of producer Jeff Lynne to assist with the production.
In 1994, the three surviving members recorded their contributions separately, adding new instrumentation and vocals to the existing Lennon demos. Through the use of studio techniques, they were able to create the illusion of collaboration and make it sound like a unified Beatles recording. The completed version of "Free as a Bird" was released in 1995 as part of the Beatles' Anthology 1 album, while "Real Love" was released in 1996 on the Anthology 2 compilation.
So, while McCartney, Harrison, and Starr worked on completing Lennon's demos and releasing them as Beatles songs, they did not physically reunite as a band during that time.
METALLICA DONATED £40,000 HELPING HOMELESS PEOPLE IN LEICESTER CITY NEAR ENGLAND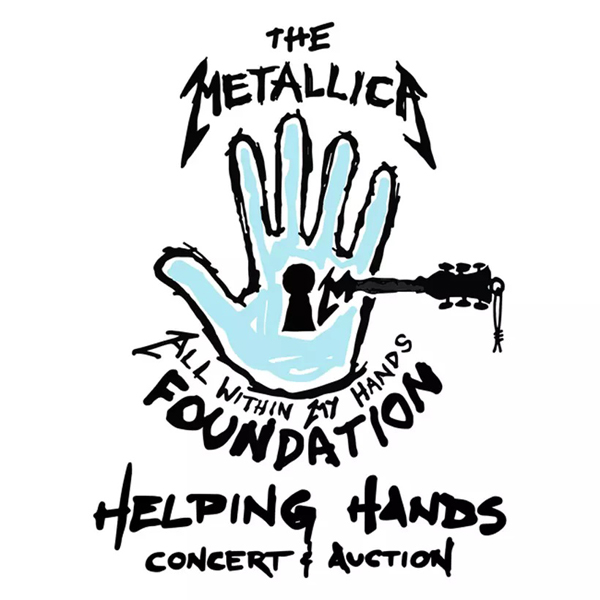 Metallica's donation of £40,000 to Help the Homeless in Leicester is a wonderful gesture of support for those in need. It's commendable that they used their platform and resources to make a positive impact in the community.
Metallica's All Within My Hands Foundation has been involved in various charitable endeavors, including supporting education, fighting hunger, providing disaster relief, and other important activities. By reaching out to Help the Homeless in Leicester, they demonstrated their commitment to addressing the issue of homelessness and contributing to the well-being of the local community.
This kind of philanthropic action from renowned artists like Metallica can bring attention to important causes and inspire others to get involved and make a difference.
All Within My Hands said the donation would help "those most at risk" and Help the Homeless and all the money would provide a lifeline for some of the city's most vulnerable people.

NORTH AMERICAN GALLERY INAUGURATES THE "LED ZEPPELIN" EXHIBITION
The Morrison Hotel gallery, in locations in New York and Los Angeles, will present an exhibition highlighting one of the most iconic rock bands of all time: Led Zeppelin. Open June 8, 2023, the comprehensive career retrospective depicts the band's exalted rise, their legendary world tours and rare moments in music history, immortalized only in memory and art photography.
The exhibition will feature artwork from the album "Led Zeppelin IV," designed and autographed by Jimmy Page, autographed prints from the latest edition by the late photographers Baron Wolman, Peter Simon, Peter Tarnoff and Terry O'Neill, as well as an iconic photo from Led Zeppelin's first photo shoot as a band, sold exclusively by Morrison Hotel Gallery.
DOCTOR'S SAYS LISTENING TO " ROCK MUSIC " HELPS TO AVOID STRESS AND PROMOTES BRAIN TO THINK BETTER

Dr. Nicole Andreoli, a clinical psychologist and therapist, has shared and suggesting that people who listens to heavy metal music can have several benefits.
Stress Reduction: Music has been shown to have a significant impact on stress reduction. Different genres of music can affect individuals differently, depending on personal preferences and experiences. For some people, listening to heavy metal may serve as a cathartic outlet, allowing them to release tension and experience a sense of emotional release.

Critical Thinking: Music, including heavy metal, can stimulate critical thinking and intellectual engagement. The complexity and intensity of heavy metal music, characterized by intricate instrumental compositions and thought-provoking lyrics, can encourage listeners to actively engage with the music and reflect on its themes. This can potentially promote critical thinking skills and emotional intelligence.

Emotional Processing: Music is often used as a means of emotional expression and processing. Heavy metal, with its intense and passionate nature, can provide a channel for individuals to explore and process complex emotions such as anger, frustration, or sadness. By identifying with the music and its themes, listeners may find solace and understanding, facilitating emotional processing and self-reflection.
"Music gives a soul to the universe, wings to the mind, flight to the imagination, and life to everything."

Let's keep "RAWKING \M/
SLEEP TOKEN MASSIVE TOUR HEADLINING IN "OVO" LONDON'S ARENA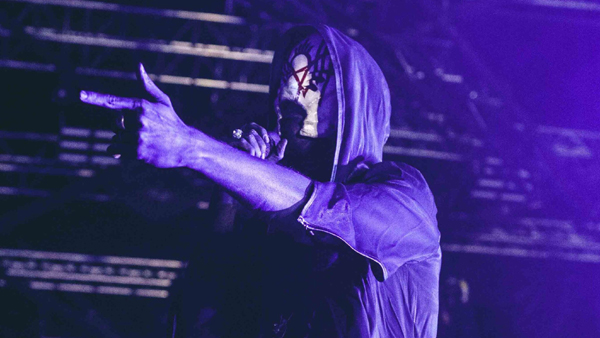 That's fantastic news for Sleep Token! The announcement of their headline show at London's OVO Arena Wembley on December 16 is indeed a significant milestone for the band. Playing at such an iconic venue is a testament to their growing popularity and success.
After the enormous success of their album "Take Me Back To Eden," it's no surprise that Sleep Token's fanbase continues to expand. This headline show at OVO Arena Wembley will undoubtedly be a momentous occasion for both the band and their dedicated followers.
The OVO Arena Wembley has a rich history of hosting legendary performances by renowned artists, and Sleep Token's inclusion in that lineup is a testament to their rising prominence in the music industry. It's an opportunity for the band to showcase their talent and connect with a larger audience.
With their most triumphant year to date, Sleep Token has the chance to deliver an unforgettable performance and create lasting memories for their fans. The band's unique blend of atmospheric rock and captivating stage presence is likely to make the show a remarkable experience for everyone in attendance.
As Sleep Token continues to reach new heights in their musical journey, this headline show at the OVO Arena Wembley serves as a clear indication of their growing success and the anticipation surrounding their future endeavors.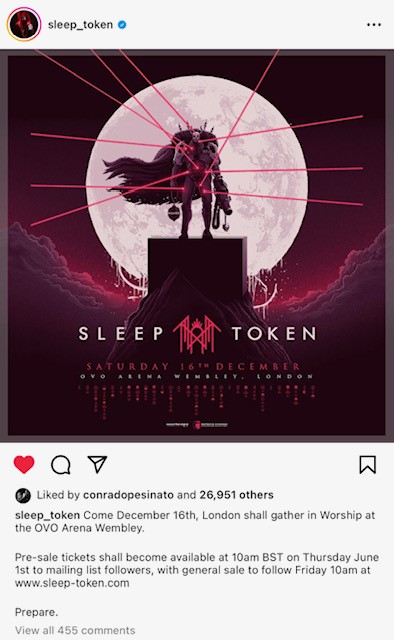 QUEEN'S CATALOG COULD BE SOLD BY OVER $1 BILLION THIS YEAR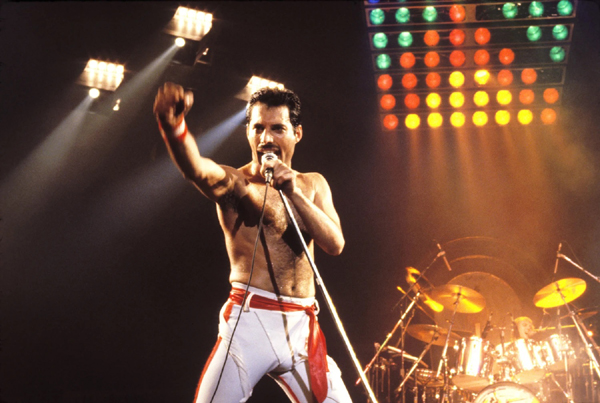 CNN, Universal Music Group is in negotiation to acquire QUEEN's catalog from Disney Music Group.

The source added that the sale will surpass $1 billion and the deal is "expected to close within one month." According to Music Business Worldwide, Disney Music Group owns the band's recorded music catalog in North America.
DMG has a global distribution agreement with Universal Music Group.) QUEEN members Brian May, Roger Taylor and John Deacon, as well as the estate of the band's late singer Freddie Mercury, reportedly each own equal shares in the company Queen Productions Ltd, which owns the group's recording catalog outside the U.S. and Canada.
SAN ANTONIO NU METAL BAND "A WAY OUT" DEBUT NEW SINGLE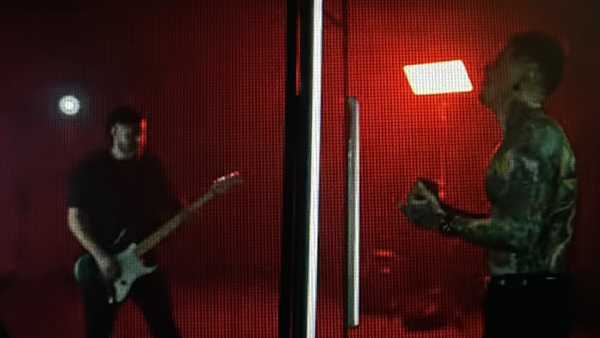 "A Way Out" seems to draw inspiration from the nu-metal era, which was popular in the late 1990s and early 2000s. This genre combined elements of alternative metal, rap, and electronic music, and bands like Linkin Park and Bring Me the Horizon became well-known for their hooky, angsty sound.
Being championed by Richard Wicander, the drummer of Fire From the Gods, is a positive sign for A Way Out. It suggests that they have received recognition and support from an established musician in the rock scene, which can be invaluable for new bands trying to make a name for themselves.
A Way Out develops their sound and musical style beyond their debut single. Nu-metal influences have made a comeback in recent years, and many bands are incorporating those elements into their music while adding their own unique twists. Fans of Linkin Park and Bring Me the Horizon may find A Way Out's music appealing due to the similarities in style, but the band will hopefully bring their own distinct flavor to the table.
On their lyrics "A Way Out" draws on the band members' personal struggles and addresses themes such as toxic relationships, mental health struggles, and addiction. Music has always been a platform for artists to express their innermost emotions and connect with their listeners on a deeper level. By sharing their personal experiences, the band members of A Way Out have an opportunity to create a relatable and empathetic connection with their audience.

Themes like toxic relationships, mental health, and addiction are issues that many people face in their lives, and through their music, A Way Out can provide a voice for those who may be going through similar challenges. By shedding light on these subjects, the band has the potential to create awareness, encourage conversations, and let listeners know that they are not alone in their struggles.

Check out new video below:
DEPECHE MODE SHARE NEW VIDEO " WAGGING TONGUE "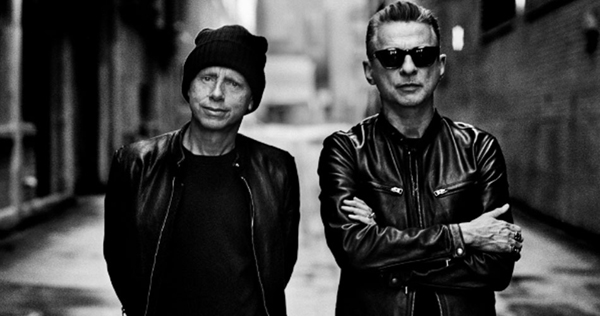 Depeche Mode has just revealed the visual treatment of a track from their latest album, Memento Mori. The video for "Wagging Tongue" was directed by Sacred Egg with creative direction from the band's longtime collaborator Anton Corbijn.
The film depicts the relationship of a young couple who engage in a mysterious ritual. Dave Gahan and Martin Gore appear in the all-black and white video.
Depeche Mode is currently on a world tour in support of the new album. So far, they are meeting dates only in Europe, North America and Mexico until December 17.

Watch new video below:
Corey Taylor new song "Beyond" first single from upcoming album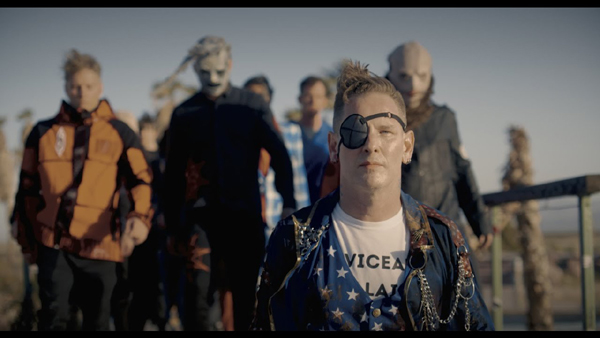 Slipknot frontman Corey Taylor has released a new solo song titled "Beyond," which serves as the first single from his second solo album, CMF2. The album is set to be released on September 15th and features 13 songs, all written and sung by Taylor.
Although "Beyond" was just recently debuted live, it's interesting to note that the song was actually written back in 2006 and has been kept in Taylor's songwriting vault until now. It's described as anthemic, catchy, and powerful, which aligns with Taylor's signature style and sound.
Fans of Corey Taylor and Slipknot will likely be eagerly anticipating the release of CMF2 and the chance to hear more of his solo work.
CMF2, Corey Taylor's second solo album, will be released on September 15th through his own Decibel Cooper/BMG imprint. This gives Taylor more control over the distribution and release of his music, allowing him to bring his artistic vision to life in the way he desires.
Watch the new video below:
New "Sick New World festival" was the place to be for every Nu Metal fan on the planet

.
The Sick New World festival sounds like a fantastic event for fans of nu metal and those seeking a dose of late 90s/early 00s nostalgia. With headliners like System of a Down and Korn, along with appearances from Deftones, Incubus, Evanescence, and more, the festival offered a lineup that would surely appeal to discerning nu metal fans.

System of a Down treated the crowd to a 31-song set, including some of their most popular tracks like "Prison Song," "Chop Suey," "Toxicity," and "Aerials," as well as rarer outings such as "Peephole," "Soil," and "Forest." It must have been an exhilarating experience for the fans to hear these songs performed live.
Korn's lead singer, Jonathan Davis, added a touch of nostalgia to their set by wearing the shiny purple tracksuit he famously sported during the band's late 90s heyday. His throwback attire likely brought back memories for long-time fans and added an extra layer of excitement to their performance.
The festival also featured the long-awaited reunion of Coal Chamber, marking their first live appearance since 2015. Their seven-song set included 90s classics like "Loco," "Big Truck," and "Sway," as well as their cover of Flood's "Rowboat." This must have been a special moment for fans of the band.
In addition to these highlights, Sick New World included performances by Evanescence, Incubus, Papa Roach, Mr Bungle, Cradle of Filth, and The Sisters of Mercy. The festival undoubtedly offered a nostalgic journey into the sounds and atmosphere of the late 90s/early 00s nu metal scene.


Dayseeker returning to the UK for their biggest headline tour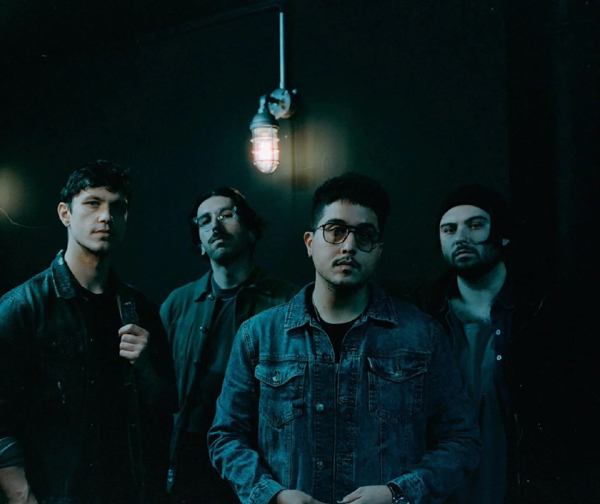 Dayseeker is an American metalcore band formed in 2012 from Orange County, California. The band consists of vocalist Rory Rodriguez, guitarist Gino Sgambelluri, bassist Ramone Valerio, and drummer Mike Karle. They are known for their emotionally-charged lyrics and post-hardcore sound.

In 2015, Dayseeker embarked on their first headline tour in the UK to promote their second album, Origin. Over the years, the band continued to gain a following and released two more albums, Sleep Talk in 2019 and Dark Sun in 2020.
Due to the COVID-19 pandemic, Dayseeker had to delay their tour plans, but they have now returned to the UK with a bolstered back-catalogue and a growing fanbase. They upgraded their entire tour, except for one show, and added a second London date, which suggests that they are riding upon the success of their previous albums and are hitting their stride.
Dayseeker's vocalist Rory Rodriguez feels that the timing is right for their return to the UK. Rodriguez's comment about betting on themselves is also a positive sign. It suggests that the band is confident in their abilities and believes that their music will resonate with audiences in the UK.

Dayseeker's UK tour has been a success so far, with over 5,000 tickets sold and some shows selling out quickly. This is a testament to the band's growing popularity and the strength of their fanbase.

Watch video below:
Cost of Venue Hosting U2's Las Vegas Shows Rises to $2.3 Billion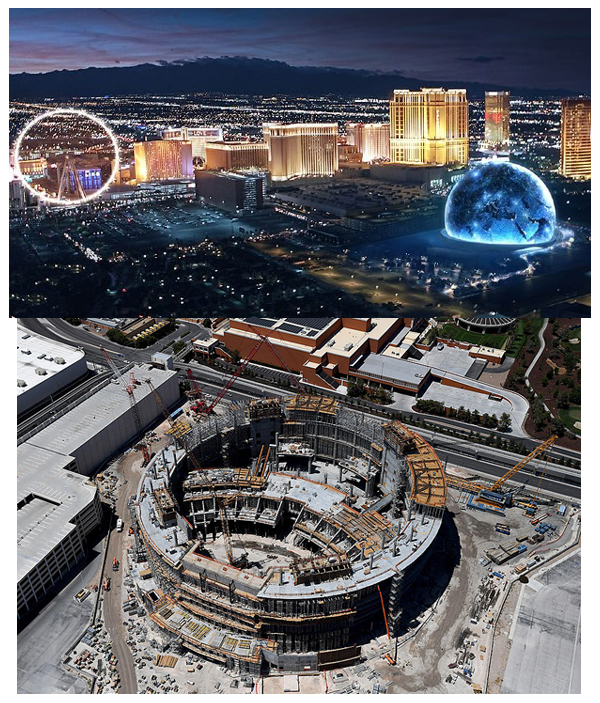 The MSG Sphere venue in Las Vegas, which is set to open in September 2023 with U2 as its opening act, has experienced cost overruns and is now expected to cost $2.3 billion, $500 million more than its original budget of $1.8 billion. The spherical venue, which has a seating capacity of 17,500, was initially announced in 2018 and was supposed to cost less than the Allegiant Stadium, which is the home of the Las Vegas Raiders and has a capacity of 65,000. However, supply chain issues, pandemic-related delays, and global financial conditions have contributed to the cost overruns, which had reached $2.1 billion by December 2022.

The company faced criticism from industry analysts, with one saying the costs had always been underestimated. But CFO David Brynes argued that the innovative nature of the complex, and the immersive musical entertainment it could offer, meant it was still a safe investment. "We feel very good about the sponsorship opportunities, especially in Vegas … the No. 1 destination for entertainment," he said in December. "And the Sphere will be the No. 1 immersive experience the city offers. Companies and brands are going to want to be associated with this experience."
Highlighting the advertising opportunities presented by the fact that the entire exterior will be an LED screen, Brynes added, "What's even more encouraging is that several of these Sphere sponsorship conversations are with existing major sponsors at [other] MSG entertainment venues. Clearly, companies recognize the value of event sponsorship for Sphere."

U2 will become the first act to perform at the venue – its full name is the Sphere at the Venetian Resort – on Sept. 29.





Knotfest Brazil it's confirmed - dates of its 2023 edition will be october 21 and 22

The Knotfest Brazil is confirmed for October, according to the organization of the event on the night of Wednesday (03) via social networks.
"Our meeting is scheduled! See you on October 21 and 22," reads the caption of the announcement video, which points out that the festival this year will be held in two days.
The 2023 edition has not yet had any further details revealed. It should be held in the Anhangabaú Valley and its line-up, which should bring together big names in metal, is highly anticipated.

Last year, Knotfest debuted in Brazilian territory on December 18, at Anhembi, bringing together a strong cast: Slipknot, Judas Priest, Pantera, Bring Me The Horizon, Sepultura, Trivium, Mr Bungle and Black Pantera.

NITA STRAUSS ANNOUNCES SUMMER STORM NORTH AMERICAN TOUR WITH LIONS AT THE GATE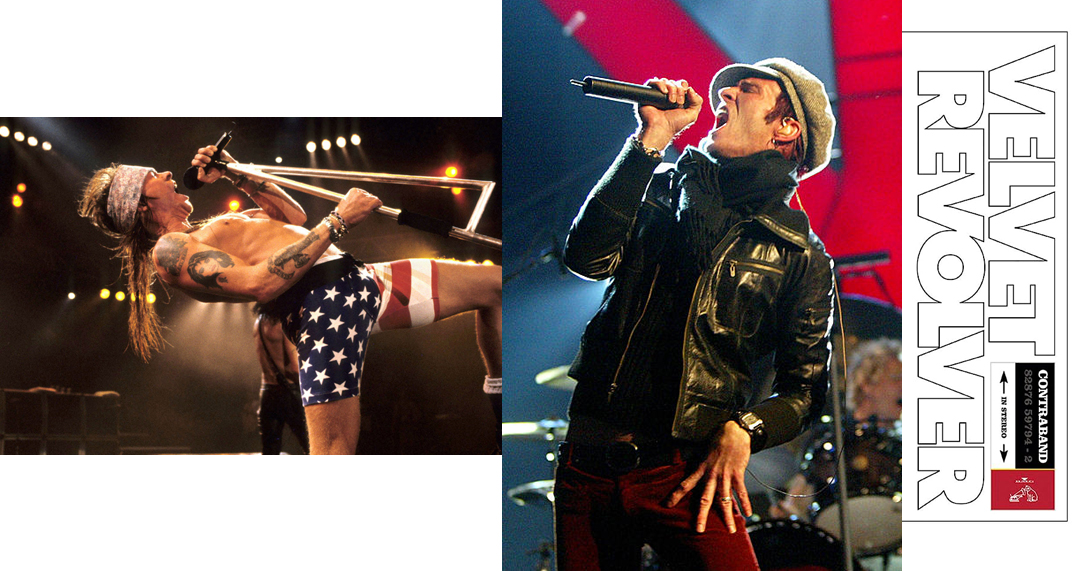 Guitarist Nita Strauss (Alice Cooper) has announced dates for her North American summer tour with support from Lions At The Gate.
Nita Strauss is a talented guitarist, known for her work with Alice Cooper and other musical projects. It's exciting that she's embarking on a solo tour, giving fans the opportunity to see her showcase her skills in a different context.
The "Summer Storm" tour sounds like it will be a fun and exciting event, with a range of dates across the United States. It's great to see musicians getting back to touring after the challenges of the past year.
In March, it was announced that Nita would return to Alice's band for his 2023 tour. The Alice Cooper North American tour, with an all-new show dubbed "Too Close For Comfort", kicked off in late April in Michigan and continues through late September.
Nita Strauss has had the opportunity to play with a variety of different artists throughout her career, including Alice Cooper and Demi Lovato. It speaks to her versatility as a musician and her ability to adapt to different musical styles.
Nita was able to jump into playing live shows with Demi Lovato so quickly after joining their band. Playing live can be a demanding experience, and it requires a lot of skill and preparation to put on a great show.

Nita made her live debut with Demi on July 14, 2022 with a performance of "Substance" on ABC's Emmy Award-winning late-night show "Jimmy Kimmel Live!"
Nita had been playing with Cooper since 2014 when she replaced Australian musician and former Michael Jackson player Orianthi.

The Summer Storm tour will kick off on June 13 in Nashville and is scheduled to wrap up on July 14 in New Orleans.
Tickets go on sale Friday at 10 AM local time. VIP for all shows on sale now at nitastraussvip.com.

Metallica kick off their M72 tour with "No Repeat Weekend" series, The band have begun a new concept where they'll play two different setlists in a row at the same venue.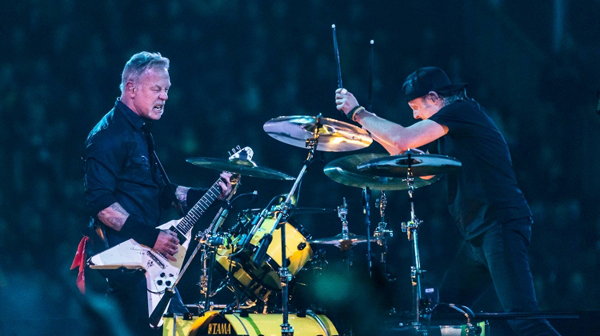 Metallica put on another impressive and unique performance in Amsterdam on this particular weekend, starting with an instrumental and performing on a ring-shaped stage with a large number of fans able to watch from inside an enlarged version of the "snakepit". The band kept their promise of not repeating any tracks from their previous show at the same venue, which shows their dedication to providing a fresh experience for their fans. The set list for this show consisted of 16 songs.

Today they delivered 72 Seasons, by performing three songs from it during this show. The tracks "If Darkness Had a Son," "You Must Burn!" and the title track were included in the set list. Additionally, the band played "Until it Sleeps," a song from their Load album, which they hadn't performed live in almost 15 years. Finally, the show closed out with two of the band's most iconic tracks, "One" and "Enter Sandman," leaving the audience with a powerful ending to the performance.

Metallica will next bring their M72 'No Repeat Weekend' tour to Paris for shows at the Stade De France on May 17 and 19th. The tour's first dates in America are scheduled for August 4 and 6 at Metlife Stadium in East Rutherford, New Jersey. The August 18th and 20th shows from Arlington, Texas will be broadcast in movie theaters across the world.
Metallica April 29, 2023 Set List was:


"The Call of Ktulu"
"Creeping Death"
"Leper Messiah"
"Until it Sleeps"
"72 Seasons"
"If Darkness Had a Son"
"Welcome Home (Sanitarium)"
"You Must Burn!"
"The Unforgiven"
"Wherever I May Roam"
"Harvester of Sorrow"
"Moth Into Flame"
"Fight Fire With Fire"
"Whiskey in the Jar"
"One"
"Enter Sandman"



Do you know why April 29th Matters in Rock History? Did you know was a big day for Rock History?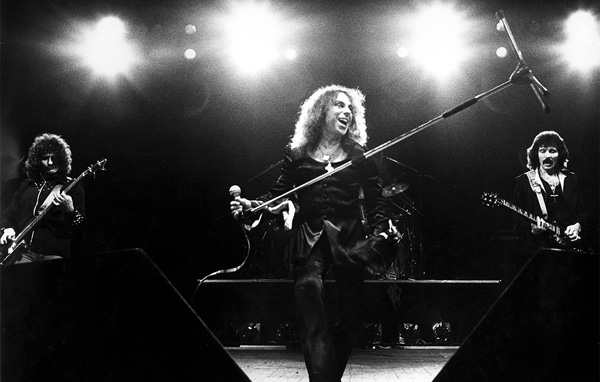 It's April 29th and here are some reasons why this day matters in rock history:
In 1980, Black Sabbath began their first tour with Ronnie James Dio as the singer.
In 1999, Motley Crue announced that drummer Tommy Lee had quit the band to spend time with his family and work on a new group called Methods of Mayhem. He rejoined Motley Crue in 2004.
In 1976, Bruce Springsteen tried to climb over the fence at Elvis Presley's Graceland estate in an attempt to see The King. Instead, he was escorted off the premises by guards.
In 1989, Jon Bon Jovi married his childhood sweetheart, Dorothea Hurley, on the steps of Las Vegas' Graceland Chapel.
In 1993, famed guitarist and producer Mick Ronson died from liver cancer at the age of 46.
And in 2003, Pearl Jam bought a 14-hundred square-mile area of rainforest in Madagascar to offset the 57-hundred tons of greenhouse gas emissions they estimated their latest North American tour had incurred.
And that's what happened today in rock history.


Ozzy Osbourne Names His Favorite Dream Supergroup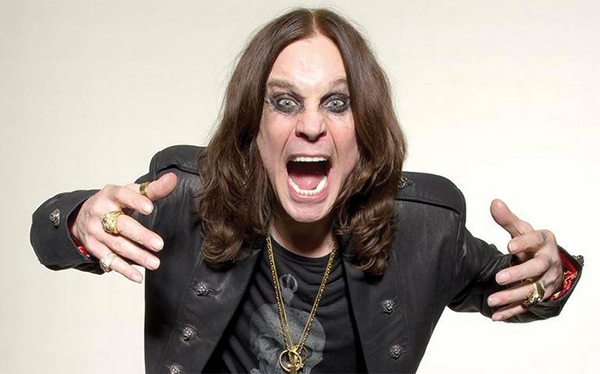 During the latest interview with Metal Hammer, Ozzy Osbourne picked his dream supergroup. The first member of Ozzy's dream team would be none other than the legendary guitarist Jimi Hendrix and John Lennon.

"I'd love to do something with John Lennon or Jimi Hendrix. I'd love to do something with Randy Rhoads again. I'd love Paul McCartney to play on one of my albums. He's a great bass player.
And Ozzy added, "That's a great band. There are no drummers in that band, though," he notes. "You'd need to get a drummer."
Next up on the list is the session drummer of Black Sabbath, Tommy Clufetos. Ozzy described him as "Tommy Clufetos is my drummer now and he's a great drummer."
Last but not least, Ozzy picked keyboardist Paul McCartney of The Beatles. "The song that made me decide what I want to do in my life was She Loves You by The Beatles. I had this blue transistor radio – I remember it like it was yesterday – and I went, 'Fuck… what is this?' It was so profound! They just fired my imagination. I wanted to be a Beatle. I wanted Paul McCartney to marry my sister! My bedroom wall was covered in fucking Beatles pictures."
Of course, it's all just a dream for Ozzy, as some of these musicians have passed away and the logistics of bringing together such a talented group would be nearly impossible. But it's fun to imagine what kind of music they would create if given the chance.
Ozzy's dream supergroup is a testament to the incredible talent of these musicians and their impact on the world of rock and roll. While we may never get to see them perform together, their music will continue to inspire generations to come.
SLIPKNOT
frontman
Corey Taylor
has signed a "global recordings agreement" with
BMG
to release his second solo album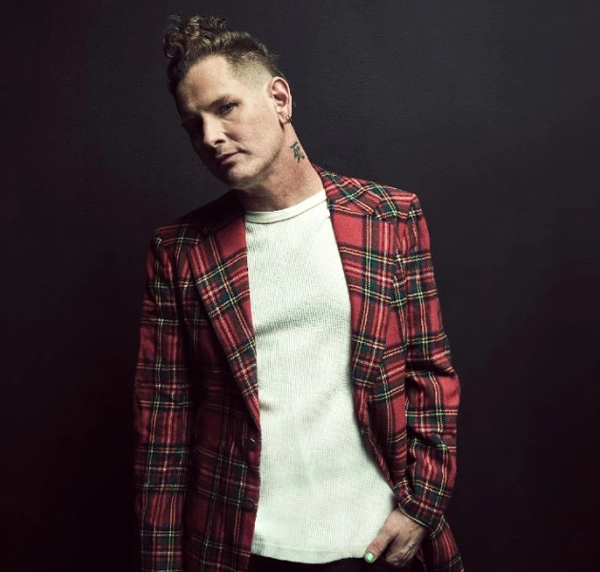 According to Billboard, SLIPKNOT frontman Corey Taylor has signed a "global recordings agreement" with BMG to release his second solo album, "CMF2", will arrive later in 2023.
That's great news for Slipknot and Corey Taylor fans! Corey Taylor signing a "global recordings agreement" with BMG means that the label will be responsible for distributing and promoting his upcoming album "CMF2" worldwide. This is a significant step in Corey Taylor's solo career as it shows his growing popularity and recognition as a solo artist.
Furthermore, the fact that the album will be released via Taylor's label imprint Decibel Cooper means that he has more creative control over the project, which can be an advantage in terms of artistic expression and direction.
It will be interesting to see how Corey Taylor's second solo album differs from his first, "CMFT," which received positive reviews and showcased Taylor's versatility as a musician. Fans can look forward to more details about the album's release date, tracklist, and collaborations in the coming months.
"I wanted to work with BMG because they came in super hot wanting to work with me, and they've been keeping the fires burning for rock, punk and metal over the last few years," Taylor told Billboard.

"We are thrilled to welcome Corey Taylor to the BMG family," executive VP of New York/senior VP of international marketing Jason Hradil said in a statement. "His new album is an extension of the incredible body of work he's assembled over his career, and we can't wait for fans around the world to hear it later this year."

Thomas Scherer, BMG president of repertoire and marketing, Los Angeles and New York, added, "We were completely blown away after hearing Corey's new album. His music is absolutely brilliant with the marketing skills to match. It is an honor to be the partner for such an inspiring artist and entrepreneur like Corey Taylor and amplify his vision globally."

Thirty Seconds to Mars reveals excerpt of their 1st new song in 5 years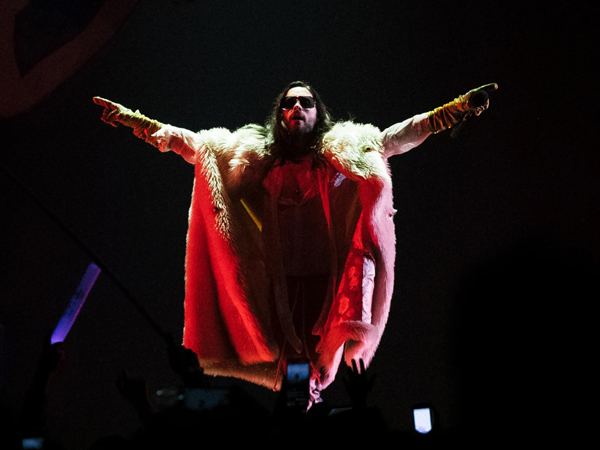 Thirty Seconds to Mars is a popular American rock band consisting of Jared Leto, Shannon Leto, and Tomo Milicevic. The band has released four studio albums so far, with their last album, "America," released in 2018.
After revealing on his Instagram last week that the new studio album of Thirty Seconds To Mars is finished, vocalist Jared Leto starred on Wednesday (26) a video in which he appears interacting with a teaser of the first single of this work.
Leto emerges opening the piano, a musical instrument case, the trash can, the door of his house and his smartphone, while being chased by the new music.
LATEST NEWS